Hill Republicans Try to Temper the Hopes Trump Gave His Supporters
By and
Incoming president teeing up flurry of actions for first weeks

GOP faces split on trade, deficits, immigration, entitlements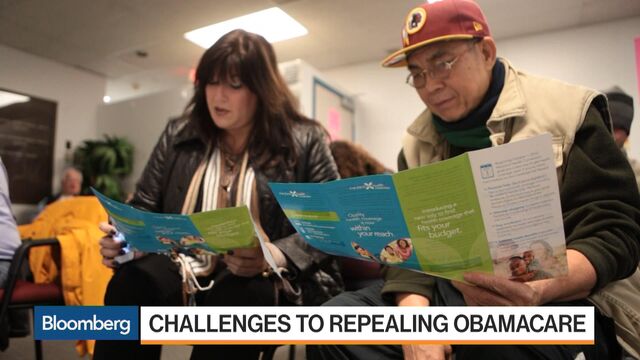 As he prepares to take office, Donald Trump has set high expectations that he can deliver quickly on his many ambitious campaign promises. No one knows better how hard that will be than his Republican allies in Congress.
As with any political takeover, the aftermath could be bloody and full of intrigue, and Republicans are already trying to temper hopes set by Trump himself that all of his supporters' dreams will come true after he takes the oath of office.

"I feel like this is a sobering moment," said Senator David Perdue of Georgia, who sees himself as Trump's biggest ally in the Senate now that Alabama's Jeff Sessions has been nominated to be attorney general. "I'm more hopeful than excited."
Trump will start where he has the most unity with fellow Republicans, including the repeal of Obamacare and undoing some of the Obama administration's regulations. Senate Budget Chairman Mike Enzi released a proposed budget resolution Tuesday that would set up the process for a partial Obamacare repeal.
But within a few months, Trump and the Republicans will have to navigate deep splits between traditional conservative principles and his populist planks. This is where Trump feels he has the upper hand -- a mandate even, fueled by his swaggering style and enforced by an online army of supporters.
Disruptive Showman
Trump, a showman in every respect, sees a unique opportunity to dramatically upend longstanding foreign and domestic policies. Moving aggressively in areas like immigration and trade would be a chance to show base voters that he's delivering.
Scaling back environmental and business regulations can help bring home traditional Republicans who remain wary of Trump's conservative credentials, and jumpstart construction and infrastructure projects that the new president will gladly take credit for. And shaking up diplomatic relationships across the globe provides a chance to demonstrate separation from the Washington establishment that will be feting the new president for much of the week.
Some of the biggest early splashes are likely to come on immigration, the signature issue of his campaign. As early as the first week, Trump is expected to implement some sort of executive action increasing resources for border enforcement activities and further prioritizing the removal of undocumented immigrants convicted of a crime. He has pledged to halt immigration from countries with known ties to terrorism, meaning he could immediately stop flows of refugees from war-torn countries in the Middle East like Syria and Iraq. None of those items would require legislative action.
Trump has also promised sweeping action on the economy in his first days in office, including the lifting of rules restricting oil and energy production on federal lands implemented during the Obama administration and cutting off United Nations funding for climate change programs.
"I expect whatever happens it will probably be big and bold," said Julian Zelizer, a presidential historian at Princeton University. "He is already basically presiding through Twitter and making very controversial pronouncements so you can imagine once he formally has the position he isn't going to slow down."
But the Republican Party is still wondering what kind of president Trump will become in the weeks and months that follow. Will he be a fiery post-partisan populist, a staunch conservative in the mold of some of his most right-wing Cabinet picks, or a more traditional business-friendly Republican?
Some congressional Republicans are hoping Trump will largely leave the nitty-gritty details of legislating to his vice president, Mike Pence, a stalwart conservative who spent a decade in the House alongside the current GOP leaders. But during the campaign, Trump made no secret about his disdain for the Washington establishment, including top congressional Republicans.
Wish List
Setting an expiration date for Obamacare -- with a replacement to be written later -- is Trump's first legislative priority and one that will likely be a party-line affair. But the process of replacing it could drag on for months, and likely years, particularly since Trump has suggested he wants to retain key elements of the health-care law.
On Tuesday morning, the president-elect blasted Obamacare again, tweeting that it doesn't work and calling it "lousy healthcare."
Democrats will try to defend the law as best they can, with President Barack Obama planning to visit Capitol Hill on Wednesday for a strategy session. Pence, too, will be on the Hill Wednesday to discuss the Obamacare repeal with Republicans.
Republicans plan to use special budget rules to bypass a filibuster from Senate Democrats to kick off the effort -- a multi-step process that will take weeks at a minimum. While they are united on the idea of repeal, they still have to iron out the details, including whether to delay a full transition to a new system for as many as three or four years. As long as the 52 Senate Republicans can avoid more than a pair of defections, there's nothing Democrats can do to stop them.
Republicans likewise can jam through Trump's Cabinet nominees, although Democrats intend to force lengthy debates on many of them in an effort to drive a wedge between the new president and the voters attracted to his populist message.
Senate Democrats, newly led by New York Senator Chuck Schumer, will have a say over approving Trump's Supreme Court pick, unless Republicans act unilaterally to eliminate the 60-vote threshold to install a Trump nominee to replace the late Antonin Scalia.
But weathering fights with Democrats might be the easy part for Trump and the GOP. Trump could have a far harder time papering over the raw divisions within his own party soon after Inauguration Day on issues as diverse as trade, deficits and Russia.
Tempering Expectations
There's a question among some Republicans whether Trump -- and his band of die-hard supporters who have been promised the moon -- have much of an understanding of how difficult it can be to move legislation in the Senate in particular.
"There is not much I can do Republicans-only in the U.S. Senate," Senate Majority Leader Mitch McConnell said last month in an interview with Kentucky Education Television. It's a message he's been delivering ever since Trump's surprise victory and is likely to repeat often in the coming months.
Still, senators like Perdue and Democratic Senator Joe Manchin of West Virginia see the potential for Trump to bust up the usual partisan gridlock. Ten Democratic senators including Manchin are up for re-election in states Trump won, giving him a group that will be inclined to find at least some areas where they can agree.
Lamar Alexander of Tennessee, the chairman of the Senate Health, Education, Labor and Pensions Committee, has cautioned repeatedly that Republicans should avoid focusing on a purely partisan agenda -- saying that was a mistake of the first two years of the Obama administration.
"If we want a lasting solution, eventually we're going to have to have 60 votes in the Senate to get it," Alexander said of replacing Obamacare after the election.
But there's also an urgency to act.
"I feel a great sense of responsibility to repair the damage that's been done by the Obama administration," said Senator Ron Johnson of Wisconsin, who won an upset re-election victory alongside Trump. "We're talking about the health-care system, the debt that's approaching $20 trillion now, and the shambles our foreign policy has become."
Trump will also face in the Senate in particular a group that includes a number of formerly "Never Trump" Republicans who refused to vote for him on Election Day -- from Lindsey Graham of South Carolina and John McCain of Arizona, to younger conservatives like Ben Sasse of Nebraska, Jeff Flake of Arizona and Mike Lee of Utah. Immigration and Trump's overtures to Russia are among the areas of dispute.
And there's no shortage of policy splits already emerging between top Republican leaders and the future occupant of the White House, although House Speaker Paul Ryan of Wisconsin and McConnell have done their best to sweep them to the side in favor of their more traditional GOP aims.
There's little appetite, for example, among Republican leaders for Trump's proposal for a 35 percent tariff on products from companies that move factories abroad -- nor his signature issue of building a wall on the southern border and getting Mexico to pay for it. And Republicans aren't united on Trump's push for a massive infrastructure spending plan and enormous tax cuts that would balloon the deficit.
Ryan is pushing his own "Better Way" agenda detailed last year, while McConnell has been openly frosty to the idea of a big stimulus package and told reporters he prefers any tax cuts be offset by other revenue so as not to increase the deficit.
Indeed, the debt limit will spring back into force March 16 at approximately $20 trillion, presenting Republicans with a conundrum given many of them have said they would never vote to raise it without major concessions like an amendment to the Constitution requiring a balanced budget.
Republicans will also soon have to grapple with keeping the government open past April 28, when stopgap funding expires.
Conservatives like Perdue, first elected in 2014, want to avoid a repeat of George W. Bush's years with a Republican Congress, which ramped up spending, slashed taxes and ushered in a return to deficits after years of surpluses.
"If I remember correctly, we added about $4 trillion to the debt," Perdue said. "That can't happen again."
— With assistance by Erik Wasson, Shannon Pettypiece, and Laura Litvan
Before it's here, it's on the Bloomberg Terminal.
LEARN MORE