Minutes to Give Few Rate Clues as Fiscal Puzzle Clouds Fed View
By and
FOMC meeting details unlikely to lift 'cloud of uncertainty'

Inflation debate should continue through 2017 decision making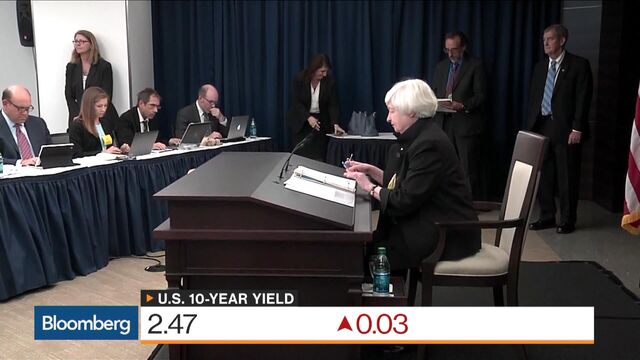 Details about the closed-door policy discussion Federal Reserve officials held last month could help explain why several of them increased the number of interest-rate hikes they expect in 2017 without significantly upgrading their economic forecasts. Officials will likely be less revealing about the timing of the next policy move.
Minutes of the Dec. 13-14 meeting of the Federal Open Market Committee, during which officials decided to raise their benchmark lending rate by a quarter percentage point, are scheduled to be released at 2 p.m. Wednesday in Washington.
In quarterly projections released following the meeting, enough policy makers raised the number of hikes they foresee in 2017 to lift the median estimate to three from two. At the same time, their 2017 forecasts for growth and unemployment shifted minimally, while not at all for inflation.
"I'm going to be looking to see if there's anything in the minutes that shows that they're actually much more upbeat on growth than what their forecast showed," said Joseph LaVorgna, chief U.S. economist at Deutsche Bank Securities Inc. in New York. "I thought the market got too excited about the extra hike in 2017."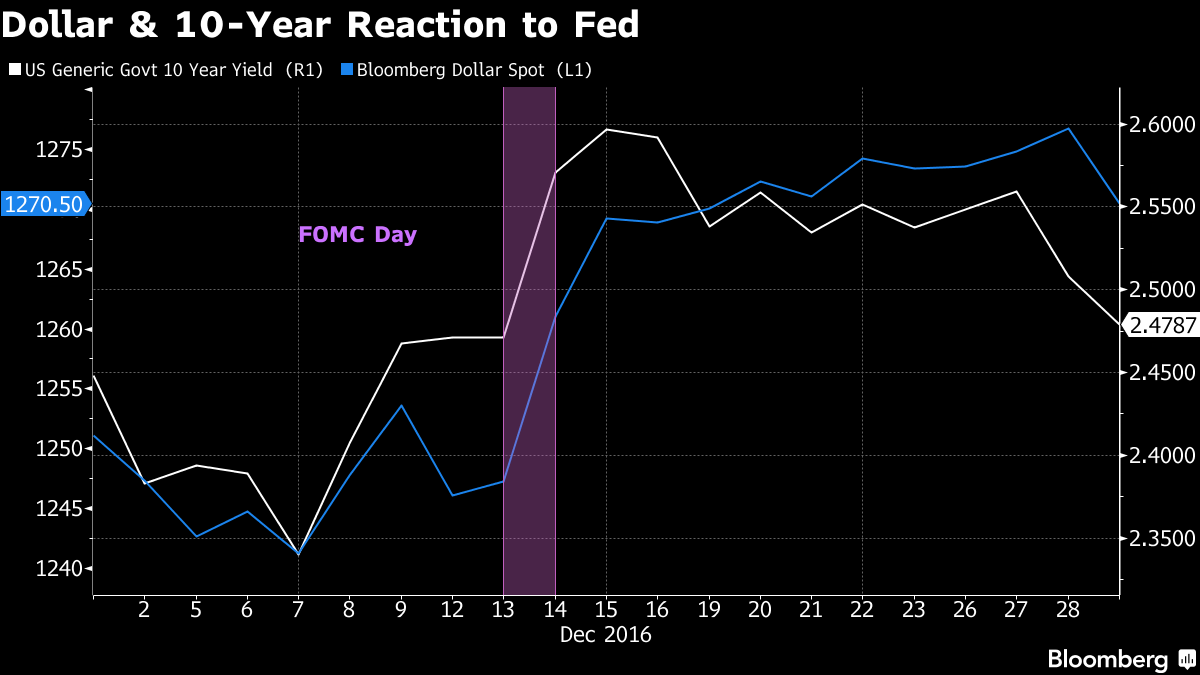 The yield on 10-year Treasuries initially rose by about 0.14 percentage points to 2.58 percent on Dec. 14, and has since settled back to around 2.44 percent. The dollar, measured against a basket of 10 global currencies, remains about 1.6 percent stronger than it was Dec. 13.
Economists will also be looking for what Fed officials said about potential fiscal policy changes under President-elect Donald Trump and how they might react to measures that could stimulate growth and inflation. During his campaign, Trump promised lower taxes, higher spending on infrastructure and looser government regulation of businesses. He hasn't provided significantly more details since his Nov. 8 election victory.
Cloud of Uncertainty
In her post-meeting press conference on Dec. 14, Fed Chair Janet Yellen referred to future budget policy as a "cloud of uncertainty" that would keep the central bank in a wait-and-see mode until more concrete actions emerged. She added that some Fed officials, but not all, had incorporated some assumptions about future fiscal policy into their economic forecasts.
"I'm looking for some kind of sign of how much impact the administration's plans had on the forecasts," said Thomas Simons, an economist at Jefferies LLC in New York. "Not specific numbers, but how they feel about the risks and the direction of rates in that light."
Stephen Stanley, chief economist at New York-based Amherst Pierpont Securities LLC, was more skeptical that the minutes might offer insight into what committee members think about fiscal policy, because too much remains uncertain.
"I don't think policy makers would want to pin themselves down, and if they had a discussion there might be a conscious decision to downplay it in the minutes," he said.
He's more hopeful of finding helpful nuggets from the description of discussions on inflation and unemployment.
"What would make them happy in terms of inflation?" he said. "Are they not moving until it crosses 2 percent, or are they happy about getting close and feel they need a running start before it hits 2 percent?"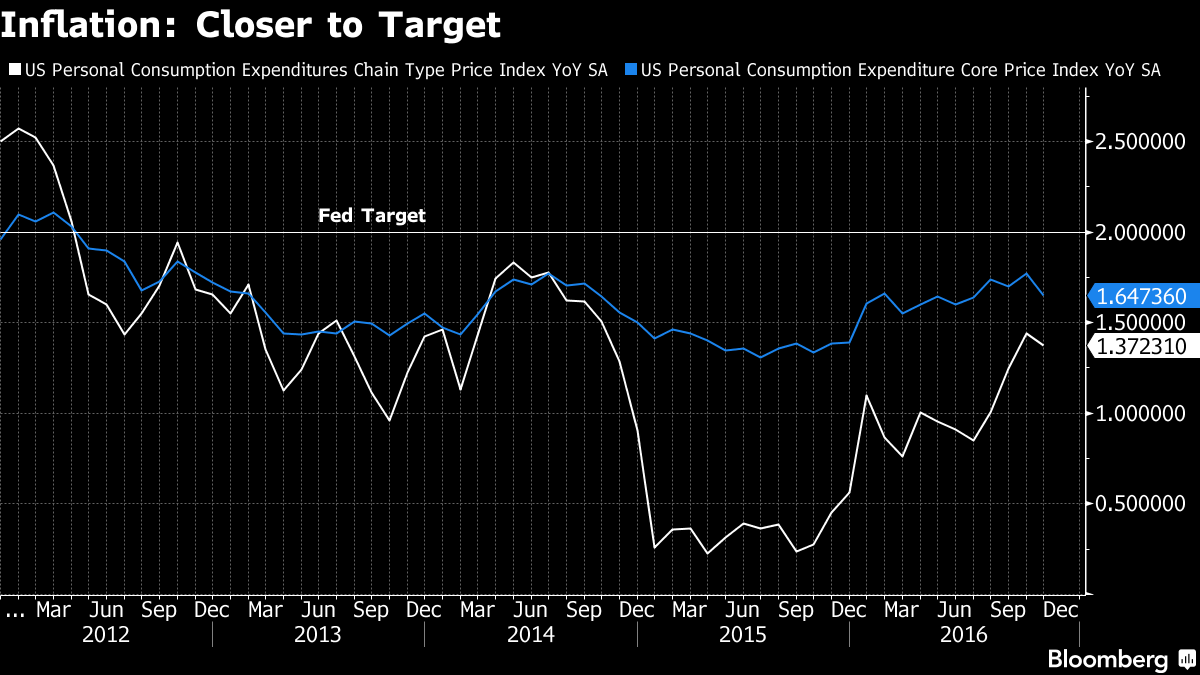 The Fed's preferred measure of inflation was 1.4 percent in the 12 months through November, though the year-on-year numbers are set to rise because of movements in energy prices. Meantime, the core gauge of price pressures that strips out volatile food and energy components was 1.6 percent over that period. The Fed targets 2 percent inflation.
Full Employment
Some FOMC members, including the normally dovish Boston Fed President Eric Rosengren, have argued that with unemployment essentially at its lowest sustainable level, the Fed should worry about overshooting its mark on inflation. The U.S. jobless rate fell to 4.6 percent in November.
Others, like Chicago Fed chief Charles Evans, have pointed to inflation's consistently sluggish behavior over recent years and suggested the committee should wait until it reaches 2 percent before any upward move in rates.
No one interviewed expected the minutes to make clear when the next hike is likely to come.
"If there's going to be a surprise, it would be the Fed signaling in the minutes that they have their finger on the trigger for another rate hike quickly, which we think is unlikely," said Ted Wieseman, an economist at Morgan Stanley & Co. LLC in New York.
Stuart Hoffman, chief economist at PNC Financial Services Group Inc. in Pittsburgh, agreed. "You won't get any sense of urgency to necessarily do it again in March, and I don't think they will," he said. "The first quarter always sort of understates the underlying momentum in the economy, and the Fed will want to wait and see more on the fiscal policy side."
Before it's here, it's on the Bloomberg Terminal.
LEARN MORE