Disclosure, Incentives, Activists Top Governance Agenda for 2017
By
'Optimistic' boardrooms mean bigger payouts to U.S. executives

SEC expected to hold off rule-making pending Dodd-Frank review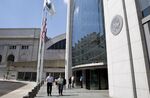 As speculation mounts that the incoming Trump administration will usher in a new era of deregulation, we asked corporate-governance experts to preview trends in executive pay for 2017 in the U.S. 
Their predictions:
Tim Bartl, president and chief executive officer, Center on Executive Compensation:
"You could see a big push down the line, depending on who's selected chair of the Securities and Exchange Commission, on disclosure. Too much disclosure makes it difficult to find the relevant information and so there may be an opportunity for stakeholders to help tailor that going forward. So we're paying attention to whether there may be regulatory relief in more succinct and yet impactful disclosure."
Theresa Molloy, vice president of corporate governance, Prudential Financial Inc.:
"The SEC will likely refrain from further significant rule-making on executive pay mandates until the new administration reviews Dodd-Frank. While there has been speculation of a Dodd-Frank overhaul, these policies are now deeply rooted into companies' governance structures. Companies, boards and investors have invested a great deal of time, energy and money to comply with the regulations, which are now considered best practices. For example, 90 percent of the S&P 500 companies adopted annual 'say on pay' votes, roughly 92 percent disclosed a clawback policy in 2016 and more than half disclosed that a financial restatement may trigger their clawback policy."
John Roe, head of ISS Analytics, Institutional Shareholder Services Inc.:
"We could see an increase in short-term performance-based cash payments made in the year due to strong company performance in the fourth quarter. With the bull market, some of that may translate back into how executives are being judged on short-term performance. Where there is board subjectivity that goes into the measure, I think there's a more optimistic attitude in the boardroom today than there may have been four, five or six months ago."
Dan Laddin, partner, Compensation Advisory Partners:
"The place we're going to see a little bit more in the long-term incentive is lower reliance on total shareholder return. It's starting to play out. Not that many companies are getting rid of it wholesale, but they're diminishing the impact of it by bringing in a second metric or making it a modifier."
Bruce Goldfarb, president and CEO, Okapi Partners:
"Large mutual fund and index fund managers, like BlackRock, State Street and Vanguard, are becoming more vocal about governance issues and long-term value creation. You can expect these shareholders as well as activist investors to hold boards accountable for compensation plans that incentivize short-term thinking over long-term sustainability and growth."
Greg Elders, ESG analyst, Bloomberg Intelligence:
"I don't think there will be anything radically different. I think generally a rising market makes it easier to push through pay increases because investors are less discerning. So I think compensation committees won't have as much pressure."
Alexandra Lajoux, chief knowledge officer emeritus, and Friso van der Oord, director of research, National Association of Corporate Directors:
"While the past is no predictor of the future, we have observed over the years that there is a lot of deja vu at proxy season. Expect more of the same, with director pay being the sleeper issue."
Before it's here, it's on the Bloomberg Terminal.
LEARN MORE