Photographer: Brendon Thorne/Bloomberg
Australian House Prices Rise Most in Seven Years on Low Rates
by
Home prices climbed 10.9% last year, CoreLogic data shows

Housing price growth accelerated after central bank rate cuts
Australian house values increased at the fastest pace in seven years in 2016, as record-low interest rates helped fuel demand for property despite warnings such price increases may be unsustainable.
The average dwelling value in the nation's eight state and mainland territory capitals rose 10.9 percent last year, compared to 7.8 percent in 2015, data from CoreLogic Inc. released Tuesday showed. That's the biggest increase since 2009.
The CoreLogic data shows a jump in the pace of growth since the early part of 2016, when average increases were running nearer to 6 percent. The Reserve Bank of Australia cut interest rates to record lows in May and August in an effort to spur inflation, counting on an increase in supply and tighter lending restrictions to help restrain the housing market.
However, the data suggests rate cuts, "had the side effect of boosting an already overheated housing market," Michael Workman, a senior economist at Commonwealth Bank of Australia, wrote in a note to clients.
Beneath the runaway headline growth, a more nuanced picture of divergence between cities -- and types of property -- emerges. Home prices in Perth, which is still struggling with the end of the mining investment boom, fell 4.3 percent last year, compared to a 15.5 percent rise in Sydney.
CoreLogic's head of research Tim Lawless said this two-speed market was "most distinct" in Melbourne, where house values gained 15.1 percent last year, while apartments rose just 1.7 percent.
"Concerns around unit oversupply have eroded buyer confidence," he said.
Apartment Glut
The RBA has repeatedly flagged concerns about a looming oversupply of inner-city apartments, with Morgan Stanley estimating there could be a nationwide surplus of 100,000 units by 2018. The major banks have also become more cautious about lending to both buyers and developers of apartments.
Lawless said house price growth will slow in 2017, noting that, in addition to other headwinds, mortgage rates from banks had already begun to rise.
"Higher mortgage rates have the potential to quell housing demand, especially considering the record-high levels of household debt which implies consumers are highly sensitive to changes in the cost of debt," he said.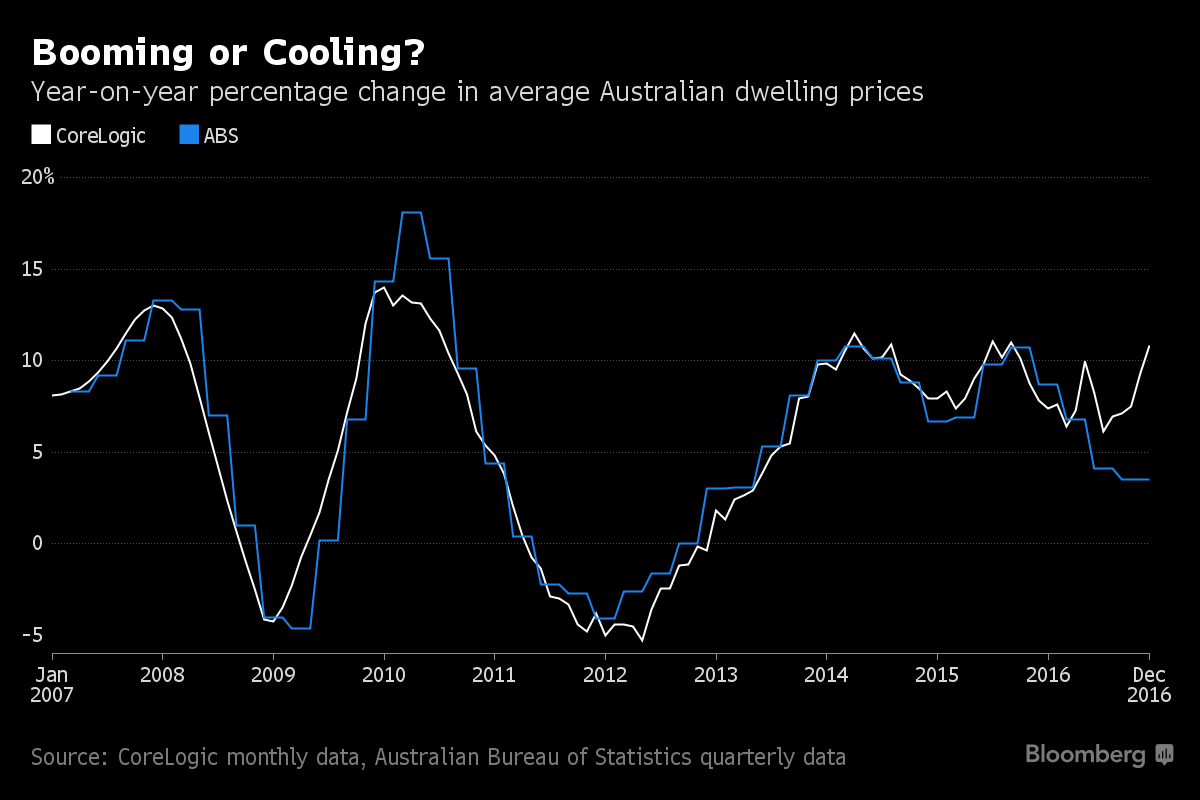 CoreLogic also flagged the risk regulators may take further steps to reduce speculative real estate investment. The latest data from the Australian Bureau of Statistics show that landlords have been progressively increasing their share of mortgage demand since the rate cuts last year.
One challenge for regulators is that the data isn't all pointing in the same direction. The most recent government data showed Sydney house prices in the year through September rose at the slowest pace since 2012.
Before it's here, it's on the Bloomberg Terminal.
LEARN MORE