May Calls for Unity in 2017 as Divided U.K. Prepares for Brexit
By
Premier Says 'opportunities are greater than ever' in new year

Britain plans to trigger EU divorce talks by end of March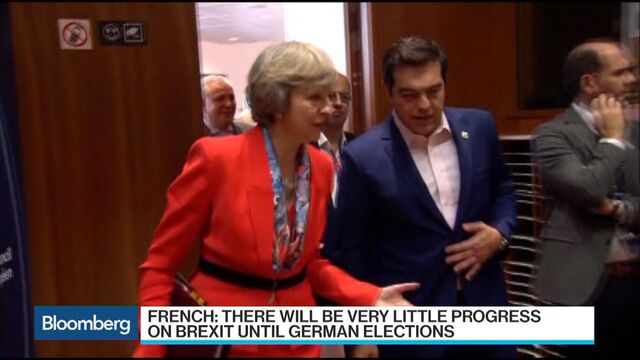 Prime Minister Theresa May said opportunities for the U.K. are "greater than ever" and called for the country to unite in 2017 as she prepares to formally trigger two years of talks to withdraw Britain from the European Union.
In a New Year's message, the premier said she'll bear in mind the interests of both the 52 percent of voters who backed Brexit and the 48 percent who opposed it when she negotiates a deal with her 27 EU counterparts. May quoted murdered opposition Labour Party lawmaker Jo Cox, who said: "We are far more united and have far more in common than that which divides us."
"We all want to see a Britain that is stronger than it is today; we all want a country that is fairer so that everyone has the chance to succeed. We all want a nation that is safe and secure for our children and grandchildren," May said in the video message. "When I sit around the negotiating table in Europe this year, it will be with that in mind -- the knowledge that I am there to get the right deal, not just for those who voted to leave, but for every single person in this country."
May aims to invoke Article 50 of the EU's Lisbon Treaty, the formal trigger for two years of divorce proceedings, by the end of March. Polls show few Britons have changed their minds on Brexit since the June referendum, and the prime minister is under pressure from "Leave" campaigners who want a clean break with the EU and "Remain" supporters who want to retain close ties with the bloc.
May said she'll aim to remove barriers to aspiration and secure a "better deal" for working people. At the same time, she said the country's "shared interests and ambitions can bring us together."
"The referendum laid bare some further divisions in our country -- between those who are prospering, and those who are not; those who can easily buy their own home, send their children to a great school, find a secure job, and those who cannot; in short, those for whom our country works well, and those for whom it does not," May said. "This is the year we need to pull down these barriers that hold people back, securing a better deal at home for ordinary, working people."
Before it's here, it's on the Bloomberg Terminal.
LEARN MORE