business
Paschi Rescue to Cost Italy 6.6 Billion Euros, Central Bank Says
By
Official estimate of state aid given in Bank of Italy note

Institutional investors would bear remaining costs of rescue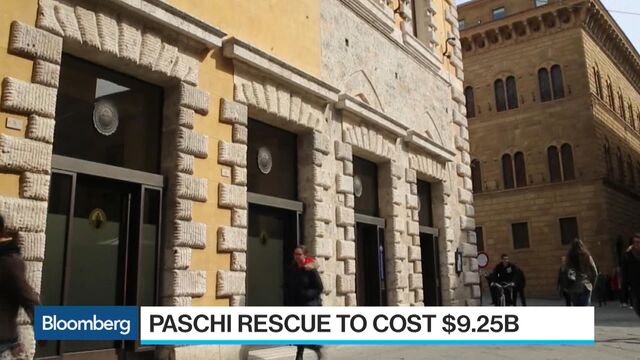 Italy's rescue of troubled lender Banca Monte dei Paschi di Siena SpA will cost the government about 6.6 billion euros ($7 billion), the country's central bank says, providing the first official estimate of public funding.
About 4.6 billion euros are needed to meet capital requirements and 2 billion euros would be required to compensate the lender's retail bondholders, the Bank of Italy said in a statement late Thursday. There also would be an additional 2.2 billion euros of costs borne by institutional investors, the Rome-based institute said.
Italy's central bank also explained the difference between the figure of 8.8 billion euros requested by the European Central Bank under the so-called "precautionary recapitalization" mechanism and the 5 billion euros that Monte Paschi failed to raise on the market.
The higher amount represents the funds needed for Monte Paschi to maintain sufficient capital ratios as decided in a special meeting of the European Central Bank 's Supervisory Board, the Bank of Italy said.
The Italian cabinet led by Prime Minister Paolo Gentiloni agreed last week to plow as much as 20 billion euros into Monte Paschi and other banks after Monte Paschi, the world's oldest lender, was unable to find a new core investor -- a key part of the 5 billion-euro plan to raise capital on the market.
In an interview published on Thursday by the financial daily Il Sole 24 Ore, Finance Minister Pier Carlo Padoan criticized the ECB's Supervisory Board for the lack of clarity regarding the criteria used for its calculations. "In addition to a letter of five lines and three numbers, some explanation would have been useful; opaque moves without an explanation lead people to think that there's something wrong," the minister told Sole.
In a statement on Monday, the Siena, Italy-based lender said it received received two letters from the ECB including the request of the new amount to bolster its balance sheet.
Later on Thursday Gentiloni said during a year-end news conference that implementing measures to aid banks, including Paschi, passed by the Italian cabinet last week "will be long and complicated." Talks with European Union's supervisors will "hopefully be marked by productive and effective dialogue," Gentiloni added, saying that, should not that be the case, there is a risk of "tensions and difficulties."
The European Commission said Thursday that it will work with Italy to assess whether the planned capital injection into Monte Paschi is within EU state-aid rules.
Before it's here, it's on the Bloomberg Terminal.
LEARN MORE