Trump Says He'll Weigh Intelligence Findings on Russian Hack
By and
President-elect response to Obama decision to impose sanctions

Trump previously expressed skepticism about cyberattack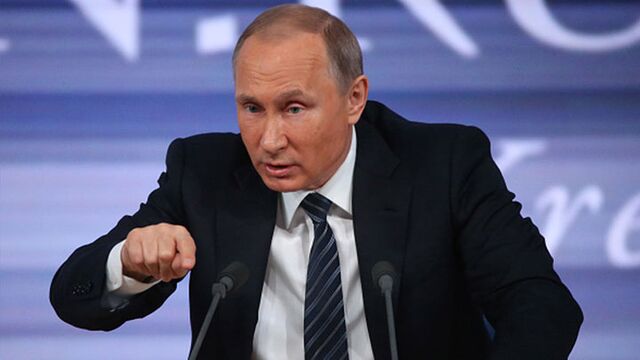 President-elect Donald Trump said he'll meet next week with U.S. intelligence officials to discuss their findings that Russia hacked Democratic Party e-mails to meddle in the 2016 election, signaling a possible shift from his previous dismissals of Russian involvement.
In his first statement following President Barack Obama's action on Thursday to sanction Russian intelligence officials and agencies for the hacking, Trump released a statement, saying, "It's time for our country to move on to bigger and better things. Nevertheless, in the interest of our country and its great people, I will meet with leaders of the intelligence community next week in order to be updated on the facts of this situation."
Trump, who has pledged to seek better relations with Russian President Vladimir Putin, repeatedly has expressed skepticism about the conclusions of U.S. intelligence agencies that Russia was behind the pilfering and release of e-mails from DNC and party officials in order to damage the campaign of Hillary Clinton. He once said the hacking could have been the work of "somebody sitting in a bed someplace" and told reporters Wednesday that "we ought to get on with our lives" instead of rehashing the cyberattack.
Obama's actions put Trump in a bind less than a month before his inauguration. He will have to decide whether to reverse course when he takes office Jan. 20, which would effectively reject the findings of U.S. intelligence agencies and put him at odds with the Republican leaders in Congress who called the sanctions a necessary step. The Russian government said it would announce on Friday its response to Obama's move and emphasized that it soon will be dealing with Trump.
"Right now we just are not in a position to sit here and respond to all of these details before we have a full-blown intelligence report on this particular matter," Reince Priebus, Trump's appointee as chief of staff, said on Fox News Thursday night. "We just need to get to a point ourselves where we can talk to all of these intelligence agencies and find out once and for all what evidence is there, how bad is it."
Obama administration officials acknowledged Thursday that it would be up to Trump whether to continue the economic penalties or to uphold a second part of Obama's action, the expulsion of 35 Russian intelligence operatives in the U.S. under diplomatic cover.
In conjunction with the sanctions, the FBI and Homeland Security Department also released a report with technical evidence intended to prove Russia's military and civilian intelligence services were behind the hacking and to expose some of their most sensitive hacking infrastructure.
Earlier this week, Trump used Twitter to accuse Obama of hobbling the transition to his administration, alleging unspecified "inflammatory" statements and "roadblocks." Obama telephone Trump on Wednesday the two appeared to have smoothed over differences.
Before it's here, it's on the Bloomberg Terminal.
LEARN MORE