Poland Buys Da Vinci Painting in $105 Million Art Deal
by
Price paid for collection is seen at fraction of its value

Poland uses 2016 budget reserves as deficit below plan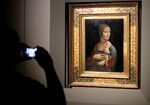 The Polish government agreed to buy a local aristocratic family's art collection, which includes the 1490 Leonardo da Vinci masterpiece "Lady with an Ermine" for 100 million euros ($104.6 million).
The agreement sees Poland taking over more than 300,000 pieces of art and a library collection owned by the Czartoryski Foundation, which has sought to preserve Polish heritage for 200 years. The da Vinci painting is insured for 300 million euros when it travels, while "Landscape with the Good Samaritan" by Rembrandt van Rijn is insured for 160 million zloty ($37.9 million). The most expensive da Vinci painting to date is "Salvator Mundi," which was sold for $127.5 million in 2013.
"In life you do things that you're willing to do," founder Adam Karol Czartoryski said at a news conference in Warsaw on Thursday when asked why he accepted a price that is a fraction of the collection's value. "I felt like making a donation and that's my choice."
Poland is seeking to make sure the art doesn't travel abroad anymore and evoke "a special kind of pride among Poles," Culture Minister Piotr Glinski told Gazeta Polska Codziennie newspaper on Thursday. Currently, the da Vinci painting and part of the collection is on display in Krakow. Parliament approved the expense as 2016 budget deficit is set to come much below plan.
"There are 14 Leonardo da Vinci paintings left in the world and we have one of the greatest," Glinski said. "The Lady with an Ermine may be of better quality than the Mona Lisa. It's really worth appreciating."
Before it's here, it's on the Bloomberg Terminal.
LEARN MORE