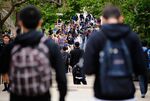 As U.S. state schools face lingering funding challenges brought on by the 2007-2009 recession, they're turning to a growing pool of full-tuition-paying students from abroad to replenish their coffers, according to a new study from the National Bureau of Economic Research that calculates a strong link between changes in state appropriations and foreign enrollment at U.S. public colleges.



The number of international students at American colleges and universities rose to 1.04 million last year, up 7.1 percent from the previous year and 85 percent over the past decade, according to data from the Institute of International Education. Foreign students accounted for 5.2 percent of the total student population at U.S. institutions last year, compared with 3.2 percent 10 years ago. China, where a limited supply of resource-rich schools are struggling to keep up with growing demand for higher education amid economic growth, remained the leading country of origin for the seventh consecutive year, followed by India and Saudi Arabia.

The rising demand from abroad has helped keep U.S. public colleges — where out-of-state tuition is often double or triple the in-state amount — afloat as they grapple with continued recession-induced funding shortages.



As the chart above shows, in 2008, student tuition made up 35.8 percent of public colleges' revenue, which also includes state appropriations. As public funding fell during the recession, the share from tuition rose to 47.8 percent in 2013. While public universities' reliance on tuition has come down a bit over the last few years, it's still well above its pre-recession level. Appropriation per student was 15.3 percent lower last year than in 2008, according to figures from the State Higher Education Executive Officers Association.

Using institutional survey data of colleges and universities and administrative data on foreign students studying in the U.S. for the period between 1996 and 2012, the NBER findings showed that a 10 percent reduction in state appropriations is associated with an average increase in foreign enrollment of 12 percent at the undergraduate level across public research universities. The study was conducted by researchers from the University of Michigan, University of Virginia, University of California at San Diego, and the Urban Institute in Washington. 

Without the expanding pool of foreign students in recent years, many universities would have had to cut expenditures or further increase tuition levels, the authors found.
Before it's here, it's on the Bloomberg Terminal.
LEARN MORE