Kerry Calls Netanyahu's Settlements Stance a Threat to Peace
By , , and
Speech comes amid rising tensions with incoming Trump team

Netanyahu slams comments as 'unbalanced' against Israel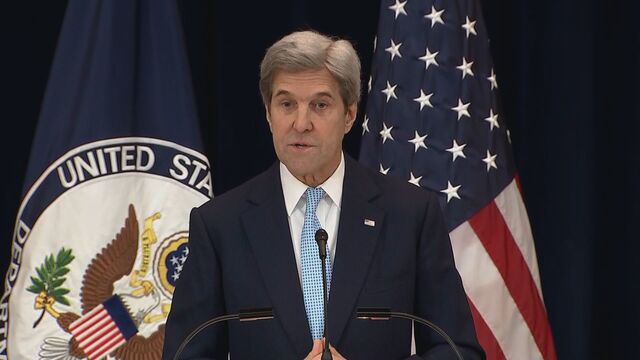 U.S. Secretary of State John Kerry said the chances for Mideast peace are increasingly at risk as Israeli Prime Minister Benjamin Netanyahu's government backs the expansion of settlements in the West Bank, contrary to both sides' stated goal of fostering a "two-state solution" to the conflict.
Settlement growth, including in areas far from the pre-1967 borders, means the prospects for a diplomatic solution are being "narrowed," Kerry said in a speech in Washington on Wednesday, less than a week after the U.S. declined to veto a United Nations resolution criticizing Israeli policy in the West Bank. "The settler agenda is defining the future."
"If the choice is one state, Israel can either be Jewish or democratic, but it cannot be both," Kerry said. He went on to call Netanyahu's government "the most right-wing in Israeli history."
Minutes after Kerry's speech ended, Netanyahu pushed back against his comments, calling them "unbalanced" in a statement to reporters in Jerusalem and saying the U.S. focus on settlements was misguided.
"This conflict is and always has been about Israel's very right to exist," Netanyahu said. "How can you make peace with someone who rejects your very existence."
'Disdain and Disrespect'
With barely three weeks left in President Barack Obama's term, Kerry addressed an issue that has emerged a flashpoint with the incoming administration of Republican Donald Trump. The president-elect has criticized Obama over the UN vote and vowed a stronger relationship with Israel after he takes office Jan. 20. His pick for ambassador to Israel, attorney David Friedman, is a strong supporter of the settlements.
Ahead of Kerry's speech, Trump weighed in, saying in a pair of tweets that "We cannot continue to let Israel be treated with such total disdain and disrespect. They used to have a great friend in the U.S., but.......not anymore. The beginning of the end was the horrible Iran deal, and now this (U.N.)! Stay strong Israel, January 20th is fast approaching!"
'Personal' Attacks
Delivered in the waning days of the Obama administration, and two years after disagreement over the settlements issue helped scuttle a previous round of peace talks, the speech may ultimately have little impact. Nonetheless, the direct criticisms of Netanyahu "were quite strong and seemed sometimes to be personal," said Shmuel Sandler, a political scientist at Bar-Ilan University's Begin-Sadat Center for Strategic Studies.
Kerry's speech came as Israel faces increasing international isolation over Netanyahu's policies. France is gathering dozens of foreign ministers in Paris on Jan. 15 to discuss the conflict. Israeli officials say that may result in a proposal they view as unfavorable, which could then be taken to the UN for a seal of approval.
Netanyahu praised Trump's support minutes before Kerry took to the podium on Wednesday.
"President-elect Trump, thank you for your warm friendship and your clear-cut support for Israel!," the Israeli leader said in a post on Twitter. He had lashed out at Obama after the UN vote, saying the U.S. pushed the resolution behind the scenes and broke a commitment to shield Israel from conditions imposed by the UN. Kerry rejected that accusation.
For a QuickTake on Israel's settlements, click here
In his speech, Kerry laid out what he described as core principles to reaching an agreement. Those included the creation of two mutually recognized states, one Jewish and one Arab, with secure and internationally recognized borders. He said Jerusalem should be recognized as the capital of both nations, with free access to the city's religiously historic sites. And he called for compensation and housing assistance for Palestinian refugees, without saying where they should settle.
Kerry also assailed leaders of the mainstream Palestinian Fatah Party for failing to condemn specific terrorist acts against Israel and for instead naming public streets and squares after terrorists.
"There is absolutely no justification for terrorism and there never will be," he said.
Kerry emphasized the Obama administration's consistent backing for Israel. He singled out the decade-long defense agreement with the U.S., valued at about $38 billion, signed earlier this year, saying it was evidence that "this administration has been Israel's greatest friend and supporter."
Opposition Reaction
Israeli opposition leader Isaac Herzog seconded that statement, saying in a tweet that Kerry's speech "expresses true concerns about Israel's wellbeing & future."
Even so, Obama has been highly critical of Israel's settlements from the moment he entered office, and clashed with Israel over a nuclear accord with Iran last year. The U.S. decision to abstain rather than veto the UN resolution last week allowed it to pass.
Netanyahu moved Wednesday to limit friction with the U.S., intervening to get a Jerusalem municipal committee to postpone a review of plans for hundreds of new apartments in east Jerusalem, which would have contradicted Resolution 2334. The committee "will continue to develop Jerusalem for the benefit of all residents, without prejudice and without political considerations," the municipality said in a statement. Committee member Hanan Rubin said the plans could be reviewed at a later date. 
For a QuickTake on the U.S.-Israeli Odd-Couple Bond, click here
Sandler said Netanyahu remains under pressure to respond to the UN vote with a wave of new building. Education Minister Naftali Bennett, whose Jewish Home party opposes a Palestinian state, has called for Israel to annex large swathes of the West Bank, though Netanyahu has ordered Cabinet members to cease all talk of annexation for now.
"No matter what, he has to wait for the Trump administration before doing anything substantial in the settlements," Sandler said.


— With assistance by Jonathan Ferziger, Saud Abu Ramadan, Fadwa Hodali, and Udi Segal
Before it's here, it's on the Bloomberg Terminal.
LEARN MORE