Real Estate
Trump Win Could Usher in Boom for U.S. Housing, Says Shiller
By
Rising mortgage rates may spur more buying now to get ahead

Says 'I want to see Trump's actual policies' and what can pass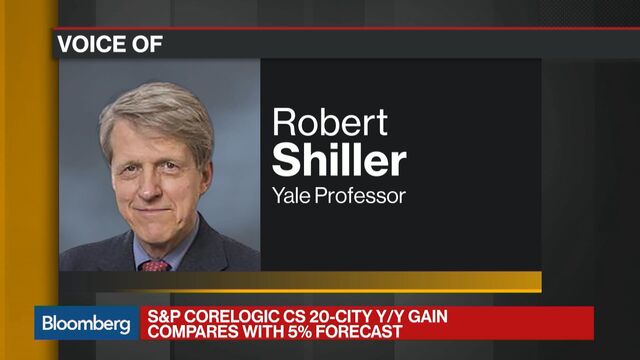 Donald Trump's unexpected victory in the November U.S. presidential election could prove a pivotal moment for the U.S. housing market, according to economist and Nobel laureate Robert Shiller.
"I think we're at a turning point. The numbers that we're reporting today are October, before the Trump election, and everything looks different now," he told Bloomberg Television's Alix Steel and David Westin. "There might be a Trump boom coming."
S&P CoreLogic Case-Shiller data released earlier on Tuesday showed that home prices in 20 U.S. cities maintained a steady pace of increases in October, rising by 5.1 percent, while a gauge of nationwide property values rose by the most since mid-2014.

Shiller, a professor of economics at Yale University, said that this trend might continue, or it might accelerate.
"I'm not forecasting a boom. I find it very hard to forecast at this point in our history because it's such an important change in government and we just don't know where it's going," he said. "I want to see Trump's actual policies and see how successful he is in getting them through."
Bond yields and the dollar have risen since Trump secured the White House on Nov. 8 as investors bet he'll follow through on campaign promises to cut taxes, ease regulations and spend billions of dollars on upgrading U.S. infrastructure. Details have been scant and will need backing from Congress, where his Republican party commands both chambers, including some lawmakers who may be reluctant to vote for measures that increase the U.S. deficit.
Shiller said that the rise in mortgage rates so far this year was "not a big deal yet" and may actually sow the seeds for further short-term gains in house prices.
"I don't know how people react to rising mortgage rates," he said. "One thought is they want to lock it in now. And that's why we've had good home sales recently. And it might continue as mortgage rates rise. This thing could feed a boom. I'm not saying it will."
Before it's here, it's on the Bloomberg Terminal.
LEARN MORE