Airbus A380 Woes Deepen as Emirates Delay Accelerates Cost Cuts
By and
Six deliveries in 2017 and 2018 are each put off by one year

Planemaker retains double-decker's delivery plan for 2018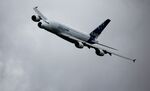 Airbus Group SE's struggles with its A380 superjumbo are deepening as the planemaker delays deliveries of a dozen aircraft over the next two years to Emirates, the double-decker's biggest buyer, potentially pushing the program into the red.
Handovers of six A380s apiece originally planned for 2017 and 2018 will be shifted to a year later following an agreement between Emirates and engine supplier Rolls-Royce Holdings Plc, Airbus said Tuesday in an e-mailed statement. The planemaker will accelerate cost cuts at the A380 operation to ensure that the "impact on break even in 2017 is minimal." Airbus said it still plans to keep to a reduced delivery target of about 12 A380s a year as of 2018.
Airbus scaled back its annual production schedule for the A380 in July after failing to secure new orders this year, and it outlined a round of spending reductions aimed at matching revenue and costs for the model in 2017 with 20 scheduled deliveries. The program broke even in 2015 at 27 deliveries. A spokesman declined to comment Wednesday on projected handovers for next year.
Engine Concerns
Emirates and Rolls-Royce reached a settlement in early December over concerns about A380 engine performance and maintenance needs that the airline disclosed the previous month. The delays have compounded Airbus's efforts to turn around the fortunes of the A380, the world's largest commercial jetliner, which lists for $433 million before the discounts customary in the industry.
Airbus fell 0.3 percent to 62.72 euros at the close Wednesday in Paris. That pared the stock's gain this year to 1.2 percent, valuing the Toulouse, France-based manufacturer at 48.5 billion euros ($50.4 billion). Rolls-Royce rose 0.9 percent in London to 686.5 pence, for a market value of 12.6 billion pounds ($15.4 billion). State-owned Emirates isn't traded.
The delays cap a tough year for Airbus's flagship model. Most recently, an order for the A380 from Iran didn't materialize when that country announced purchases from Airbus in mid-December. U.S. competitor Boeing Co. is also having trouble selling its competing 747-8.
Emirates is by far the biggest buyer and operator of the A380, with orders for more than 140 planes configured for 489 to 615 seats. The carrier, also the world's largest long-haul airlines, is set to take delivery of its first Rolls-Royce-powered version of the jetliner on Wednesday, almost four weeks later than planned. A further two aircraft will be delivered this week, a spokeswoman for Emirates said by e-mail. The carrier will continue to take delivery of A380s as well as Boeing 777s in 2017 and 2018, she said, declining to provide a breakdown.
See also: Romance of Jumbo Jets Goes the Way of the Ocean Liner: QuickTake
The Dubai-based carrier switched to Rolls-Royce engines for its latest batch of A380s after relying on General Electric Co.'s Engine Alliance joint venture with Pratt & Whitney for its first 90 orders, the last of which will be delivered early next year.
Winning Emirates as a customer for its Trent 900 engine was a major commercial victory for Rolls-Royce when it was announced in 2015. The contract for 217 powerplants -- sufficient to power 50 four-engine planes, plus spares -- remains the largest in the history of the U.K.'s prime manufacturer.
In November, Emirates President Tim Clark revealed that feedback on the powerplants indicated "technical issues" that needed to be resolved before the first plane would be handed over. Clark said the engines required a "higher intervention rate" than expected for maintenance, in part due to unanticipated levels of wear to fan blades stemming from their deployment in Dubai's desert climate. Rolls-Royce will take the full financial brunt of the extra costs, he said in December.
A spokesman for the London-based engine maker said Rolls-Royce will "continue to work with Airbus and Emirates to meet their requirements."
Before it's here, it's on the Bloomberg Terminal.
LEARN MORE