Prat-Gay Fired as Argentine Finance Minister After One Year
By and
Finance Ministry to split into two: Finance and Economy

Caputo will become Finance Minister, Dujovne Economy Minister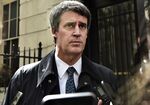 Alfonso Prat-Gay was fired as Argentina's Finance Minister after just one year in the post as a long-heralded recovery in the economy fails to materialize.
The ministry he headed will now be split into two, with Luis Caputo, who was finance secretary, heading the new Finance Ministry and Nicolas Dujovne overseeing the Economy Ministry, Cabinet Chief Marcos Pena told a press conference in Buenos Aires on Monday. Prat-Gay plans to speaks to reporters at 4 p.m. on Tuesday, Yael Bialostozky, the departing minister's spokeswoman said in a text message.
President Mauricio Macri requested Prat-Gay's resignation following disagreements over economic policy, Pena said. The economy has sunk into recession this year, defying Macri's forecast that it would return to growth in the second half, while the inflation rate has risen to about 40 percent. Prat-Gay had pushed to focus more power in the Finance Ministry as he tried to revive growth.
"Economic policies were very erratic, with bad results," said Eduardo Hecker, a former securities regulator who now heads consultancy DEL. "By firing Prat-Gay, Macri has found the perfect scapegoat for this situation."
Gross domestic product fell 3.8 percent in the third quarter from a year earlier, the statistics agency reported on Dec. 22 as rising prices eroded people's purchasing power.

Strained Relations


"Since the very beginning of the administration we've witnessed this fight between combating inflation and stimulating growth," said Carlos Aszpis, an analyst at Buenos Aires-based brokerage Schweber Securities SA. "It's clear that the dispute between the central bank head and Prat Gay was won" by bank President Federico Sturzenegger.
Prat-Gay had welcomed the central bank's decision to cut rates four consecutive times through the end of November, saying it spurred investment. Sturzenegger subsequently held the benchmark rate unchanged at 24.75 percent throughout December.
Inflation accelerated to about 40 percent after the government removed subsidies on gas, electricity and water and Prat-Gay freed up controls on the exchange rate, triggering a slump in the peso. Price-growth is now running at an annualized pace of 19 percent, Sturzenegger said on Dec. 22. High-inflation economies that bring annual price increases to below 20 percent typically double their growth rates, he told reporters.
Never Comfortable
Prat-Gay was never comfortable in Macri's cabinet. When Macri came to power in December of 2015, he divided the former Economy Ministry into three -- Finance and Economy; Energy and Mining; and Production, leaving Prat-Gay with diminished powers to push through his proposals. The minister later complained that he heard about decisions taken at the Energy or Production Ministries in the newspapers.
The creation of yet another ministry to manage economic policy didn't sit well with some investors.
The announcement "doesn't look appropriate, as Macri continues increasing expenditures by multiplying ministries," Hecker said. Macri's administration now has 21 ministries, compared with 16 in the previous government.
Argentina's benchmark Merval stock index closed on Monday with a 1.5 percent loss after trading little changed in the morning. The top losers were San Miguel SA, which fell 5.9 percent, Mirgor SA, which fell 5.1 percent, and Empresa Distribuidora y Comercializadora Norte SA, or Edenor, down 4.1 percent.
Trump's Connection
Dujovne is an "excellent economist with vast experience," said Gaston Rossi, director of Banco Ciudad. Yet, he may face a similar problem to Prat-Gay -- limited control over the budget.
"The doubt is how much power he will have to confront the fiscal challenge, whether he will have more room for maneuver," Rossi said.
Despite Prat-Gay's international profile, the government's relationship with Wall Street shouldn't be endangered by his resignation, Rossi added. It was Caputo, 51, who successfully negotiated an accord with creditors earlier this year in New York, he said. Prat-Gay worked at JPMorgan Chase & Co. as well as Caputo, who also was a Deutsche Bank AG trader.
Dujovne, 49, is connected to U.S. President-elect Donald Trump through two relatives. On one hand, his brother-in-law Moises Yellati is Trump's business partner in Argentina and Uruguay through YY Development. On the other hand, his father Bernardo Dujovne is founder of Dujovne-Hirsch & Associates, the architects building the Trump Tower in Uruguay.
— With assistance by Robin Saponar, Silvia Martinez, and Eduardo Thomson
Before it's here, it's on the Bloomberg Terminal.
LEARN MORE