markets
Europeans Are Getting Poorer, And More Unequal
By
Survey of households shows wealth slid 10% from 2010-2014

Falling property prices were biggest driver of slump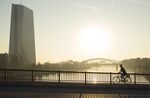 Europeans protesting against inequality have half a point -- the gap between rich and poor isn't closing.
Ten percent of euro-area households own more than half the region's wealth, according to a European Central Bank survey published Friday. A standard measure of inequality increased "slightly" and almost all households were worse off in 2014, the cut-off for the survey, compared with the previous poll in 2010.
The findings could provide fodder for populists who have gained political traction by railing against the wealth divide, and who say the situation is worsening. The latest survey is based on data collected before the ECB embarked on a massive asset-purchase program that has been accused of depressing returns for savers and raising the value of financial assets and real estate.
The median household in the euro area had a net wealth of 104,100 euros ($108,800) in 2014, about a 10th lower than in 2010, according to the survey. The richest 10 percent had 496,000 euros and the poorest 5 percent had a negative net wealth, with liabilities wiping out assets. The Gini coefficient, a statistical measure of inequality, rose to 68.5 from 68.0. A reading of 100 would signify maximum inequality.
Self-employed workers were among the wealthiest, with median net assets of 256,100 euros. Outright homeowners had 226,700 euros, though that dropped to 144,300 euros with a mortgage. Renters were among the poorest at 8,900 euros. Wealth typically increased with age groups up to 65-74, before falling back.
The survey excludes the present value of expected pensions, which the central bank notes "for many households constitute a sizable fraction of their wealth."

The previous survey provoked outrage in Germany when it showed the nation's households were supposedly far poorer than those in southern European countries such as Greece, which had been bailed out. The latest data shows that gap narrowed substantially after property prices slumped in peripheral countries. Germans are typically less likely to own real estate.

The European Union is closing out a year that has included a vote by the U.K. to leave the bloc, banking crises and the resignation of Italy's prime minister. Next year is unlikely to be any easier with elections in the Netherlands, France and Germany, and possible votes in Italy and Greece.
Terror attacks -- most recently in Berlin -- have added to a sense of disenchantment with the European project that has fueled the rise of politicians such as France's National Front leader Marine Le Pen, who have tapped into anger over immigration and lackluster income growth.
The ECB's survey, which covered 84,000 interviews in 18 of the euro-area countries as well as Poland and Hungary, could reinforce that message of inequality. In general, wealth dropped more for poorer households than richer ones. Mortgage holders were also hit as their debt burdens were worsened by falling real-estate values. The net wealth of households with a home loan slid by 20 percent, compared with 7.9 percent for renters.
(
Updates with category breakdowns in fifth paragraph.
)
Before it's here, it's on the Bloomberg Terminal.
LEARN MORE