What We Learned From Interviews With Four Top Saudi Officials
By , , and
Officials talk after the kingdom's landmark budget release

Saudi Arabia likely to tap debt market in first quarter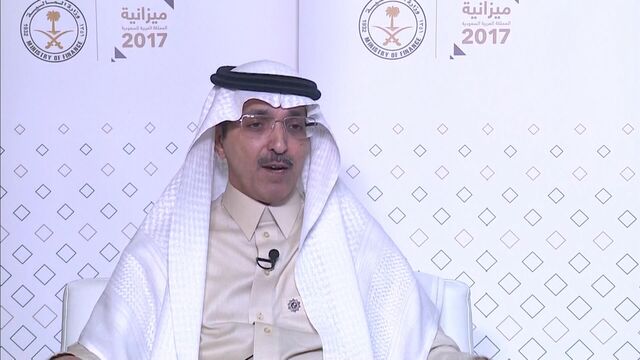 Saudi officials followed the kingdom's most detailed budget in recent history by briefings on key plans. Four top officials gave interviews to Bloomberg News in Riyadh. Here are some of the key comments:

Finance Minister Mohammed Al-Jadaan
The newly-appointed minister said the kingdom will "most likely" tap debt markets in the first quarter of next year after raising $17.5 billion in October in the biggest ever emerging market bond sale this year. The government has met with banks to discuss the potential sale of Shariah-compliant bonds, or sukuk, in the first quarter to help plug its budget deficit, according to five people familiar with the matter.
For more on the possible sale of Islamic bonds, click here
"We will issue sukuk, but we will issue other instruments at the same time," al-Jadaan said, declining to give more details. He said the timing will depend on the conditions of the markets. "We are very comfortable about our cash flow."
The minister also said authorities have paid more than 100 billion riyals in arrears to private companies in the past two months.
A quick guide to Saudi Arabia's landmark budget
About 30 billion riyals are still due. "This is an amount that we only received beginning of December, and we have not yet been able to process it, so we will process it early next year. The rest has been paid," he said.

Energy Minister Khalid Al-Falih:
Al-Falih confirmed plans to raise domestic energy prices in 2017. "I cannot specify the date but it will not be late in 2017. The intent is to do it soon enough," he said. The government raised prices last year.
"What we intend to do now is something quite different, it's quite radical," he said. "First of all, prices will be linked to international prices, so the government will essentially give out the price after this phase two is done, and Saudi prices will float with international prices. That goes for transport fuels like gasoline and diesel, that goes for jet fuel, that goes for electricity."
For more on the planned increases in fuel prices, click here
The plan will be accompanied by a cash transfer program to compensate low- and middle-income earners. "It's a permanent feature in the relationship between the citizens and the state," Al-Falih said. "Rather than getting fuels and utilities at significantly low prices that are below the international market, they will be getting cash. They can choose how to spend it."



Deputy Economy Minister Mohammad Al Tuwaijri:



Al Tuwaijri addressed the event in his capacity as secretary-general of the powerful Finance Committee at the Royal Court. The former HSBC Middle East CEO said the government's three scenarios of public finances through 2020 released on Thursday "are conservative when it comes to oil prices."

For more on the government's budget scenarios, click here

"We've used multiple sources, one is coming internally from our Ministry of Energy, Aramco. We've used the international energy prices, we've used IMF projections, we took analyst averages and we combined it and we took a haircut to calculate most of the scenarios," he said. "So it is increasing slightly over the years but it is generally conservative."
Commerce Minister Majid Al Qasabi:
The government plans to allocate 200 billion riyals over four years to stimulate the private sector. Al Qasabi said the plan will support Saudi and foreign companies that want to expand their local business or "as Track A, or for new sectors in mining and logistics and local content and tourism. "Within three months we expect that the sectors and areas will be announced," he said. 
The minister also said there are plans to allow 100 percent foreign ownership of engineering companies. "We expect this in three months," he said. The kingdom has already allowed foreign ownership in other industries.  
"As the needs appear, based on the requirements we immediately react," Al Qasabi said.
The minister also said that he expects the bankruptcy law to be approved next year. "We aim to do it in the first half."
Before it's here, it's on the Bloomberg Terminal.
LEARN MORE