Trump Urges U.S. Veto UN Resolution on Israeli Settlements
By and
UN Security Council annual vote expected Thursday afternoon

400,000 Israelis live in more than 120 West Bank settlements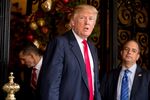 President-elect Donald Trump waded into a diplomatic controversy over Israeli West Bank settlements, urging President Barack Obama's administration to veto a United Nations resolution expected Thursday condemning their construction.
The UN Security Council is expected to vote on the resolution -- a version of which has come up at the UN for several years -- around 3 p.m. New York time. A draft circulated by Egypt declares all Israeli settlements illegal under international law and demands that Israel cease construction in the West Bank and other territories captured in the 1967 Middle East war.
Trump issued a public statement calling for the U.S to exercise its veto, saying the resolution "puts Israel in a very poor negotiating position and is extremely unfair to all Israelis." He has also vowed that the U.S. embassy in Tel Aviv will be moved to Jerusalem, a shift that would effectively end peace efforts, according to Palestinian officials.
A White House spokesman declined to say how the U.S. would vote on the UN resolution. The U.S. has vetoed similar resolutions in previous years and the Obama administration has generally shied away from branding the Israeli settlements as illegal, preferring to call them "illegitimate."
For a QuickTake on U.S.-Israeli ties, click here
Israeli-Palestinian peace talks have been at a stalemate since 2014 over the issue. Palestinian Authority President Mahmoud Abbas says all settlement construction must cease before any resumption of peace negotiations. Israeli Prime Minister Benjamin Netanyahu says restrictions on building in the West Bank and east Jerusalem can only be accepted in face-to-face negotiations aimed at producing a comprehensive peace agreement.
Some 400,000 Israelis live in more than 120 settlements built in the West Bank over nearly 50 years. Another 300,000 live in east Jerusalem, which was also captured from Jordan in the 1967 war, but which Israel annexed in a step that hasn't been recognized internationally.
Trump's pronouncement is the latest flash point between his team and the outgoing Obama administration. Incoming presidents have historically been sensitive to intervention in ongoing diplomatic controversies. Obama has frequently repeated the phrase "there is only one president at a time" as he has discussed the transition to Trump's presidency.
— With assistance by Kambiz Foroohar, and Fadwa Hodali
Before it's here, it's on the Bloomberg Terminal.
LEARN MORE