Trump Shocks—and Needs—the Establishment
The president-elect's success will depend on his ability to sell GOP conservatives in Congress on his spending plans.
By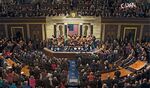 The one safe prediction about Donald Trump's first 100 days as president is that there will be brawls. Between Democrats and Republicans, of course, but also between conservative and moderate Republicans; between iconoclasts newly appointed to oversee federal agencies and the career civil servants who work under them; and among members of the cabinet, who disagree over issues ranging from budget deficits to Iran.
Emceeing the donnybrook: the president, grinning from ear to ear. Says Marc Sandalow, associate academic director of the University of California Washington Program: "If part of Trump's agenda was to shock Washington and make the political establishment's hair stand on end, he's already accomplished his goal."
For Trump, the hard part will come when he has to stop terrorizing the Washington establishment and start working with it. He won't be able to navigate between Democrats on one side and hard-line Republicans on the other without support from Senate Majority Leader Mitch McConnell and Speaker of the House Paul Ryan. He needs congressional insiders to confirm his cabinet of outsiders, repeal and replace Obamacare, overturn the Dodd-Frank financial regulation act, fill the open seat on the Supreme Court, roll back Obama-era regulations, and cut trade deals.
Producing a budget could be Trump's toughest challenge, because it will expose him to attacks from both the Left and, perhaps more important, the Right. He campaigned on a platform that, if enacted, would add $7 trillion to the national debt over 10 years by one estimate. At campaign rallies, he promised repeatedly not to cut Social Security and Medicare benefits. "You've been paying in it for a long time, and a lot of these guys want it to be knocked to hell," he said at one campaign stop last spring. "It's not going to happen, OK? Remember that. It's not going to happen."
That's far from the philosophy of Representative Mick Mulvaney, the South Carolina Republican that Trump picked to run the Office of Management and Budget, which oversees planning and spending across the executive branch. Mulvaney, elected in the Tea Party wave of 2010, is a co-founder of the House Republicans' deficit-fighting Freedom Caucus. He's voted for raising the normal retirement age for Social Security to 70 and has said "we have to end Medicare as we know it." (In that he joins Representative Tom Price of Georgia, Trump's pick for secretary of health and human services, who favors capping federal spending on Medicare.) Mulvaney has also sided with Democrats in favor of caps on the defense budget; Trump, meanwhile, wants to lift legislative caps on Pentagon spending. When he talks about cutting spending, it's mostly small ball—eliminating waste, fraud, and abuse.
For Trump to choose spending hawk Mulvaney to be the chief of his Office of Management and Budget may reflect the president-elect's tolerance, even embrace, of ambiguity and conflict. Maya MacGuineas, president of the Committee for a Responsible Federal Budget, predicts that Mulvaney will be influential because he knows how the budget works. "He'll be someone with a seat at the table who is serving as a constant reminder that the debt trajectory undermines the objectives of the administration and the health of the economy," she says. But the unlikely pairing may also reflect "wishful thinking on both parts," says Robert Bixby, executive director of the Concord Coalition, which favors shrinking the federal deficit.
Mulvaney's closest congressional allies are already preparing to do battle on behalf of balanced budgets. "In many ways it's the most joyful period of time I've had in my time in Congress," says Republican Representative David Schweikert of Arizona, who's anticipating "robust debate" in the coming year. Schweikert says he's optimistic that Trump will be receptive to some ideas he has for curbing entitlement spending. If Republicans can't make significant cuts in the federal budget during Trump's first year, he says, "we lose the right to get up behind the microphone and scold the system."
Ryan has aligned himself with Trump, but he and other House GOP leaders are "inappropriately optimistic that they can roll the Freedom Caucus," says Henrietta Treyz, an analyst at Washington-based Height Securities. The Freedom Caucus was instrumental in pushing Ryan's predecessor as speaker, Ohio Republican John Boehner, to leave Congress in October 2015 after relentless attacks over his willingness to do deals with Democrats.
Conflicts over spending will intensify in the runup to April 28, the expiration date for a stopgap spending measure the departing Congress agreed to in early December. Republican Hal Rogers of Kentucky, the outgoing chairman of the House Committee on Appropriations, warned that the measure was "a Band-Aid on a gushing wound." Senate Republican leaders have 52 votes, not enough to override a Democratic filibuster. But any concession to win support from Democrats will alienate conservatives in the House and Senate.
Republicans are planning to use budget procedures to repeal Obamacare and cut taxes in a way that allows them to bypass Senate Democrats. But that could require the fractious party to agree on overall spending levels. Then there's the debt ceiling, the legislative limit on how much money the federal government may borrow. The last time Congress raised the debt ceiling, in October 2015, only 79 House Republicans voted yes; 167 were opposed, including Mulvaney. The deal suspending the ceiling expires on March 15, though the U.S. Department of the Treasury should have enough funds to avoid a default until midsummer.
The biggest clash of all in 2017 is likely to be the one between perception and reality. The perception, shared by Trump voters and Wall Street, is that the president will be able to raise the economy's growth rate substantially. The reality is that, mathematically, the economy can't grow faster than the increase in the number of workers multiplied by the output per worker. Productivity growth is hard to change, and unemployment is already low—4.6 percent in November. Investors have been betting on a burst of Keynesian-style stimulus from the Trump administration in the form of tax cuts and increased defense and infrastructure spending, but that could be strangled if congressional budget hawks simply refuse to play along.
Joseph LaVorgna, Deutsche Bank chief U.S. economist, predicted in a note to clients on Dec. 19 that Trump will try to build some political capital by cutting individual taxes first, then moving on to easy sells to Republicans, such as repealing Obamacare with a delay, dismantling Dodd-Frank, cutting corporate taxes, repatriating foreign profits, and subsidizing a bit of infrastructure investment. Trump may leave more contentious issues including negotiating a replacement for Obamacare and rewriting trade deals for after the 2018 midterm elections, LaVorgna predicted. On trade, he wrote, "the negotiated alterations might be relatively minor." That sounds like business as almost usual. Trump has already changed the nation's political culture, but it will take more than theatrics to fundamentally change the way the U.S. economy operates.

—With Erik Wasson
The bottom line: The success of Trump's program depends on his ability to sell conservatives in the congressional GOP on his spending plans.
Before it's here, it's on the Bloomberg Terminal.
LEARN MORE