Trump Picks Republican Party Strategist as Press Secretary
By
Sean Spicer elevated from Republican National Committee post

Hope Hicks, Jason Miller appointed to communications roles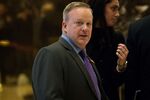 President-elect Donald Trump named Republican National Committee chief strategist and communications director Sean Spicer as White House press secretary, choosing an establishment Republican with longstanding relationships among Washington political journalists and the party's leadership in Congress.
The elevation of Spicer, 45, may signal Trump's interest in building a working relationship with the same mainstream media he bashes in speeches aimed at disenfranchised, working-class voters. The press secretary traditionally is the president's best-known aide and chief daily messenger for the White House, leading regular televised briefings for reporters and directing most media operations.
Spicer said on Twitter the appointment was an "amazing honor."
Hope Hicks, who was press secretary for Trump's campaign, was named assistant to the president and director of strategic communications for the White House. Jason Miller, the communications director for the campaign and Trump's transition team, was named assistant to the president and White House communications director. Dan Scavino, who directs social media for the transition team, will be an assistant to the president and director of social media for the White House.
Josh Earnest, the current White House press secretary, earns $176,461 a year, according to the most recent data the Obama administration has supplied to Congress. Jennifer Psaki, the current communications director, earns $174,714. Jason Goldman, the chief digital officer, earns $142,044.
Priebus Connection
"Sean, Hope, Jason and Dan have been key members of my team during the campaign and transition. I am excited they will be leading the team that will communicate my agenda that will Make America Great Again," Trump said in a statement.
Spicer is close to Reince Priebus, chairman of the Republican National Committee, suggesting that Trump's incoming chief of staff may hold sway over public messaging even as Stephen Bannon, the former Breitbart News executive chairman, assumes the role of Trump's chief strategist and senior counselor.
Others who had been mentioned as being in the mix to become press secretary included talk radio host Laura Ingraham, David Martosko, U.S. politics editor of British tabloid the Daily Mail, and Fox News personality Kimberly Guilfoyle.
Spicer became a leading surrogate for Trump after the billionaire property developer secured the Republican Party's nomination. Since Trump's Nov. 8 election, Spicer and Miller have co-hosted a daily telephone briefing with reporters. But Spicer also called Trump out on occasion during the crowded Republican primary.
'Words Do Matter'
"There is no place in our party or our country for comments that disparage those who have served honorably," Spicer said in July 2015, defending Senator John McCain of Arizona after Trump questioned his credentials as a war hero. Spicer also cautioned Trump that "words do matter" for someone who wants to be president, in the fallout of Trump's gender-tinged castigations of Fox News anchor Megyn Kelly for her critical questioning at the first Republican primary debate.
A commissioned officer in the U.S. Navy Reserve, Spicer simultaneously conveys friendship and impatience: he is a compact, barrel-chested figure with a self-described gum-chewing compulsion, perpetually readying for the next political battle. Spicer is married with two children. His wife, Rebecca, is the top communications officer at the National Beer Wholesalers Association and a former Bush administration aide and television journalist.
Before joining the Republican National Committee, Spicer served from 2006 to 2009 as the assistant U.S. Trade Representative for media under President George W. Bush. In that role he was a leading promoter of some of the very free-trade deals Trump now blames for U.S. job losses.
Spicer also served as communications director for the House Republican Conference and House Budget Committee in Congress, oversaw re-election strategies at the National Republican Congressional Committee, and with two other Republican operatives started a public relations firm, Endeavour Global Strategies.
Before it's here, it's on the Bloomberg Terminal.
LEARN MORE