Trump Says U.S. Nuclear Arsenal Must Be 'Greatly' Expanded
By
Russian president said his arsenal also should be strengthened

Obama has sought to both modernize and reduce U.S. weapons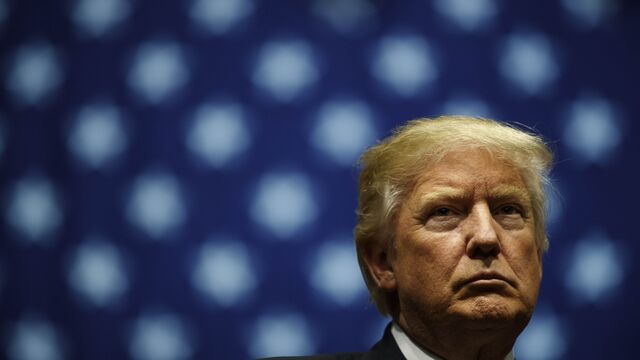 President-elect Donald Trump said Thursday the U.S. should increase its nuclear arsenal, an apparent reversal of a decades-long reduction of the nation's atomic weaponry that came hours after Russian President Vladimir Putin reiterated calls for his country's arsenal to be reinforced.
"The United States must greatly strengthen and expand its nuclear capability until such time as the world comes to its senses regarding nukes," Trump said in a Twitter post.
Putin downplayed the promised U.S. nuclear build-up at his annual press conference in Moscow on Friday, saying it was "no novelty" as it was in line with Trump's campaign promises. On Thursday, Putin said Russia should also "enhance the combat capability of strategic nuclear forces, primarily by strengthening missile complexes that will be guaranteed to penetrate existing and future missile defense systems."
Global X Uranium ETF rose to a session high after Trump's comments while Uranium Resources Inc., a Colorado-based mining company, climbed as much as 35 percent before trimming gains.
President Barack Obama has both reduced the U.S. nuclear arsenal, in an agreement early in his presidency with Russia, and sought to modernize it to replace thousands of bombs and missiles. His modernization plan -- which the Arms Control Association said would cost as much as $1 trillion over 30 years -- has come under criticism from proponents of denuclearization, who warn it may prompt a new arms race with Russia and China.
"Unnecessary, unwise, and unaffordable," Kelsey Davenport, the director of nonproliferation policy at the Arms Control Association, said of Trump's comments in a post on Twitter.

More broadly, Trump has said he will seek to enlarge the U.S. military, including by building dozens of new ships for the Navy, while controlling costs.
'Confusing Tapestry'
A Trump spokesman later attempted to walk back the remark, saying that the president-elect intended to make a point entirely different from the plain meaning of his tweet.
"President-elect Trump was referring to the threat of nuclear proliferation and the critical need to prevent it -- particularly to and among terrorist organizations and unstable and rogue regimes," the spokesman, Jason Miller, said in an e-mailed statement. "He has also emphasized the need to improve and modernize our deterrent capability as a vital way to pursue peace through strength."
Tom Barrack, the founder of Colony Capital who is also chairman of Trump's inauguration committee, defended the president-elect's tweet on Bloomberg Television.
"The fear is, when you talk about tweeting and a spontaneous act by the man who is president-elect, and you attach that to nuclear, everybody freaks out," Barrack said. "I would look at it another way. The world is a confusing tapestry. I think you'll see this president-elect start to bring normalcy, actually, and quietness back to that fabric. But it starts from strength."
Barrack said Trump uses Twitter as "a new method of communication," but added: "What he's saying on Twitter should not be viewed as action."
Lockheed Martin Corp., Boeing Co. and Northrop Grumman Corp. are already competing to build a next generation of intercontinental ballistic missiles for the U.S. Air Force, a project expected to cost at least $85 billion. That is just one part of a modernization plan which will contribute to what defense analysts call a gathering "bow wave" of spending in the coming decade on major weapons that future presidents will face.
Defense companies stand to benefit from a resurgence in military spending promised by Trump and already underway in Western Europe and Asia as global tensions rise. Trump met Wednesday with executives from both Lockheed Martin and Boeing in Florida, along with a bevy of top Pentagon officials, to discuss military spending. Among the participants was Vice Admiral James Syring, who heads the Pentagon's Missile Defense Agency.
"We're trying to get costs down, costs," Trump told reporters in brief remarks outside the resort after the officers departed.
— With assistance by David Gura, and Henry Meyer
Before it's here, it's on the Bloomberg Terminal.
LEARN MORE