States Are the Nuclear Industry's Best Hope
Trump has signaled he's pro-nuclear, but it's a low priority for Congress.
By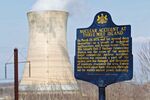 Thirty-seven years after a partial meltdown of one of its two reactors made it a symbol of the potential for radioactive catastrophe, the Three Mile Island nuclear plant is still operating—for now. The Dauphin County, Pa., facility represents the perilous economic condition of a nuclear industry besieged by competition from inexpensive natural gas and subsidized wind and solar power. Three Mile Island's owner, Chicago-based Exelon, said in a statement that unless the government intervenes to keep the plant running, the notorious facility's "long-term future past 2019" is in doubt.
That suits opponents just fine. "Nuclear power has failed dismally in the marketplace, and that's what will doom Three Mile Island," says Eric Epstein, chairman of Three Mile Island Alert, a Harrisburg, Pa., group. Yet for those concerned about climate change—presumably not the Trump administration, which is populated by climate-change skeptics, including the president-elect—the waning of nuclear power presents a challenge.
Nuclear plants produce almost two-thirds of the country's carbon-free electricity. Because of current limits on the supply of wind and solar power, natural gas is the main alternative to nuclear. According to a recently released report by Third Way, a centrist Washington think tank, "when U.S. nuclear reactors retire, they are replaced predominantly by increased generation from new natural gas-fueled power plants." In the short term, at least, that means greater carbon-dioxide emissions.

Trump has endorsed nuclear power, and in an early December memo, his transition team asked the U.S. Department of Energy how the agency could arrest the shutdown of commercial reactors and keep them "operating as part of the nation's infrastructure." But answers for how to preserve the country's nuclear fleet are unlikely to come from Trump's White House. "Beyond pro-nuclear rhetoric, it's going to be quite challenging to do anything at the federal level with regulation or policy," says Rob Barnett, a Bloomberg Intelligence analyst. Former Texas Governor Rick Perry, Trump's choice to be energy secretary, is expected to favor nuclear power, but the Energy Department lacks the tools to do much to promote it. Congress, Barnett adds, "is going to be too distracted by other issues."
Five nuclear plants have shut down since 2013, in California, Florida, Nebraska, Vermont, and Wisconsin. Shaky economics could soon doom at least a half-dozen of the 61 remaining facilities. The longer-term outlook is worse. More than half the U.S. commercial nuclear fleet appears to be unprofitable, according to analysis by Bloomberg New Energy Finance.
Some reactors that aren't breaking even operate in states with regulated electricity markets, where their losses are passed on to consumers. But more than half of the unprofitable units are in deregulated regions, where many can't compete profitably against cheap, plentiful natural gas. Consider PJM Interconnection, the regional transmission organization through which Three Mile Island sells its power. The price of electricity on PJM is averaging $39 per megawatt hour, a spokesman says. That doesn't cover generation costs for single-reactor nuke plants, which average $44.50 per Mwh. The comparable cost figure for gas is about $25 per Mwh.
In addition to selling electricity in the immediate energy market, producers participate in a future-capacity market, where they promise to make power available in coming years at a set price. For the past two years, though, Three Mile Island has failed to win contracts in the PJM future-capacity auction, because the plant's prices have been too high. Without capacity payments, "it is very unlikely" that Three Mile Island will cover its generation costs, according to Bloomberg New Energy Finance. Exelon said it's exploring ways to return the plant to profitability.
Opened in 1974, Three Mile Island produces enough electricity to power 800,000 homes. The March 1979 meltdown, the worst commercial nuclear accident in U.S. history, understandably terrified millions but according to the Nuclear Regulatory Commission didn't lead to injuries or deaths. The plant employs 520 people.
Exelon, the largest U.S. operator of nuclear plants, said it "is actively engaged with many policy leaders in Pennsylvania to help them better understand the critical role nuclear power plays." Exelon can point to two other states—New York and Illinois—that have taken action this year to rescue a total of five Exelon nuclear plants. New York through its Public Service Commission and Illinois via its legislature put in place programs that provide nuclear facilities with "zero emission credits." The plants can cash in the credits for subsidies running to the hundreds of millions of dollars.
Although they didn't specifically endorse the propping up of uneconomic nuclear plants, the Natural Resources Defense Council and some other environmental groups backed the New York and Illinois programs because they also included provisions that promote wind and solar and encourage greater energy efficiency. Says Jackson Morris, director of the NRDC's Eastern Energy Project: "We want to see states taking the initiative" to move toward renewables.
The bottom line: Almost two-thirds of U.S. carbon-free energy comes from nuclear plants, but support for providing federal subsidies is weak.
Before it's here, it's on the Bloomberg Terminal.
LEARN MORE