Robot Fight Club
Sumo Robot League trains middle schoolers in the ways of autonomous combat with $100 bot kits.
By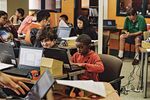 A small startup called Sumo Robot League encourages middle school students to learn to build 4-by-4-inch, 17-ounce machines, program them, then pit them against each other, tournament-style. Chief Executive Officer Eric Parker, an architect by training and a parent, says the goal is to lead more kids toward computer science degrees. He's pitching his $100 robot-making kits to teachers. "I think they're on the right track," says John Morehouse, director of Georgia's Center of Innovation for Manufacturing, a state development agency that's helping make the kits. "They've nailed it on knowing who to target."




Before it's here, it's on the Bloomberg Terminal.
LEARN MORE