Merkel Says She's Confident Germany to Beat Terrorist Challenge
By
Manhunt on for suspected attacker of Berlin Christmas market

Germany has long been latent Islamist target, Merkel says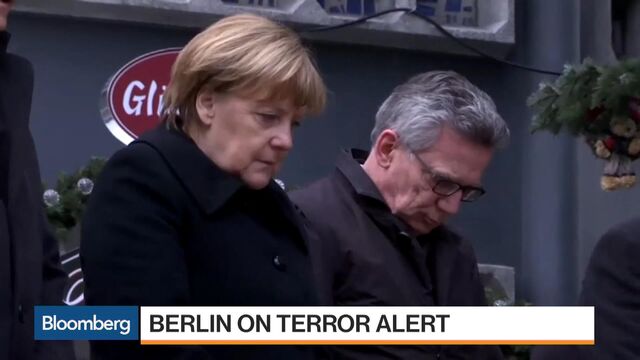 Chancellor Angela Merkel said Germany won't give in to Islamist terrorism and voiced hope that the main suspect in the Berlin Christmas-market attack that killed 12 people will be caught soon.
"We have known in theory for a long time that we too are a target of Islamist terrorism," Merkel told reporters on Thursday after a visit to the criminal investigation branch of the Berlin police. "Of course it's something completely different when it actually happens."
Faced with unprecedented online criticism as well as pressure from her political opponents, Merkel said that "we have the values of democracy and the rule of law on our side."
As authorities hunt for a 24-year-old Tunisian suspected of having driven the semi-truck used in the Monday evening attack, Merkel praised investigators after being briefed on "the arrest we hope for soon."
"This makes me confident that we can master the broader challenge that we face at this time," she said.
Before it's here, it's on the Bloomberg Terminal.
LEARN MORE