Merkel Feels Hillary's Pain as Web Trolls Bombard Her With Abuse
By
German leader becomes social media target after truck rampage

Pro-Trump bots join anti-Merkel debate in German election year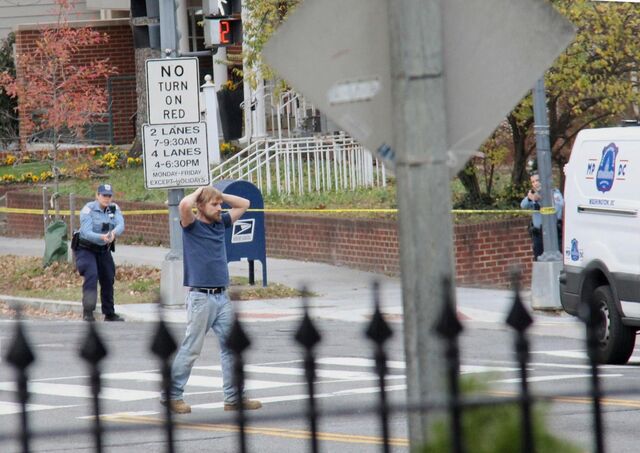 Twitter user Eylin Tabbert regularly lashed out against Hillary Clinton during the U.S. presidential campaign. Within hours of a truck plowing into a crowd at a Christmas market in Berlin, she turned her focus on a new target: Angela Merkel. 
"Blood on her hands: Merkel's open borders blamed for refugee truck terrorist deaths," Tabbert posted on Twitter, above a manipulated picture showing the chancellor spattered in blood beside an image of the truck used in the attack. 

Eylin Tabbert, who has about 4,000 followers and tweets dozens of times a day under the handle "EylinHurt," is just one of multiple users now posting angry or abusive messages about Merkel. 
Since Monday night's attack, the chancellor's Facebook page has been flooded with hundreds of negative comments, many written by accounts with just a handful or no visible Facebook friends. On Twitter, dozens of users who backed Donald Trump are now posting identical text and images targeting Merkel, suggesting they are robotic accounts -- so-called bots -- waging a larger attack.
"There's a lot of evidence that there are now targeted attempts to massively attack Merkel, including with bots," said Simon Hegelich, a political scientist at Munich's Technical University who has studied the manipulation of social networks. "A lot of accounts that pretty obviously are pro-Trump bots are now joining the anti-Merkel debate." 

The truck rampage that claimed 12 lives and left about 50 injured has given fresh ammunition to opponents of Merkel and her migration policy. Her decision to sanction an influx of more than a million refugees since the beginning of 2015 has already polarized German society, and further questions over security could threaten her chances of winning a fourth term in federal elections next fall.
Hate Posts
With Merkel warning of the most contentious German election in years, social media provides her critics with the chance to employ the same tactics that Trump's opponents credit with helping him win the White House. That can mean straightforward criticism of her policies, but also personal attacks by bots or trolls -- humans that spend hours online spreading hate. Hegelich said the online attacks on Merkel show patterns similar to psychological operations, or psyops, deployed by governments to influence opinion in their favor.
When Bloomberg tweeted a news story about Merkel's response to the attack, it generated dozens of comments, almost uniformly deriding Merkel and her refugee policy, many of them couched in offensive language. 
"Hate posts and fake news affect the campaign," Michael Fuchs, deputy parliamentary leader of Merkel's Christian Democratic Union party, said in an e-mail. "We saw that in the U.S. and we have to do something about it."
For a QuickTake Q&A on the fake news phenomenon, click here
The CDU is bracing for more online attacks and plans to boost the number of staff who monitor and respond to hateful posts targeting Merkel, a party official who asked not to be named discussing campaign strategy said last month. The German government has vowed to regulate hate speech and fake news on social media.
While it's unclear who's behind these attacks, unleashing fake social-media accounts isn't expensive or difficult, according to Hegelich. Anti-Merkel activists can buy 10,000 fake Facebook accounts for about $750. The same number of Twitter accounts can be had for about $500, he said.
Twitter has reacted to complaints it's not doing enough to curb hate speech, introducing tools that allows users to report hateful conduct and block individual words, phrases and emojis.
"Hateful conduct and targeted abuse are a violation of our rules," Twitter said Thursday in an e-mailed statement. "On enforcement, we've retrained all of our support teams on our policies, including special sessions on cultural and historical contextualization of hateful conduct, and implemented an ongoing refresher program."
'Merkel's Dead'
To be sure, there are plenty of Merkel critics happy to voice their opposition to her migration policy and its consequences. After the truck attack, Nigel Farage, the Brexit cheerleader whom Trump suggested should be Britain's ambassador to the U.S, said on Twitter that "events like these will be the Merkel legacy," while Geert Wilders, head of the Dutch anti-Muslim Freedom Party, posted an image of Merkel with her face and hands covered in blood.
Domestically, her principal critic in the wake of the attack was the Alternative for Germany party, which took off this year after it switched its focus to immigration from campaigning against euro-area bailouts. The AfD's rise has been accompanied by street rallies featuring anti-Merkel posters and slogans, and the party has been feeding anti-Merkel messages to its Facebook following of more than 300,000. Marcus Pretzell, a regional AfD chairman, posted on Twitter that the Berlin victims were "Merkel's dead."
"I won't comment on every individual thing floating around the Twitter world," Steffen Seibert, Merkel's chief spokesman, told reporters Wednesday when asked about some of the more aggressive posts. "Let me just say that I read many tweets every day that are self-discrediting."
Merkel is facing an election campaign in which the Internet is set to play a bigger role, with an increasing number of Germans turning to social media to get their news. By next year, Germans will spend more time online than watching TV, according to researcher eMarketer Inc.
Streaming Live
German news channel N24 streamed its Berlin attack coverage live on Facebook and got a record 14.7 million views, more than triple the amount of the most-watched video in Germany last year, according to marketing news site Absatzwirtschaft.de. Breitbart News, the conservative website whose former head Stephen Bannon is Trump's chief strategist, is planning to expand into Germany to capitalize on the trend.
Yet there's evidence to suggest that moderate voices won't be easily drowned out as the election approaches. Many people defended Merkel on social media, backing her stance on refugees and saying the Berlin attacks had nothing to do with migration. Pretzell's Twitter post was met by swift and plentiful criticism from other users. N24's most popular Facebook comment during the attacks, liked about 7,000 times, supported Merkel, saying she was not to blame and urging people to stand together instead of spreading fear and mistrust. 
The fallout from the Christmas-time attack in the capital may result in a temporary boost for the AfD, said Holger Schmieding, chief economist at Berenberg Bank. But it's unlikely to help the left-of-center forces that polls suggest are the only viable alternative to Merkel, given Germany's proportional system of voting and in-built bias toward coalition governments.
"If there's any impact of this terror attack, it might be short-term, possibly a little shift towards the ultra-right, the anti-immigrant right, but that would not strengthen the left-wing forces in any way," Schmieding said on Bloomberg Television. "So the political outlook for Chancellor Merkel is a little bit more cloudy, but she still looks likely to win the next election."
Bloomberg News reached out to Eylin Tabbert on Twitter for comment on her posts. There was no immediate response.
— With assistance by Nicholas Brautlecht, and Birgit Jennen
Before it's here, it's on the Bloomberg Terminal.
LEARN MORE