Little Good News for the Little Ivies
Sophisticated endowment investment strategies didn't help liberal arts schools last year.
By and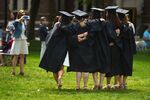 Beyond the Ivy League, there's a group of prestigious, mostly smaller colleges spread across the Northeast U.S. These private schools count many top financial professionals among their alumni and donors. But having access to Wall Street's best and brightest is no guarantee of winning investment results for college endowments—especially not amid the global market volatility that dominated the schools' recently reported fiscal year, which ended June 30.
Over those 12 months, a group of 18 liberal arts schools sometimes dubbed "Little Ivies" lost an average of 3.3 percent. That trailed the 2.5 percent average loss posted by 450 endowments tracked by Cambridge Associates. The eight Ivy League schools were down 0.8 percent on average in the same period, according to data compiled by Bloomberg.
Over the longer term, some small schools have impressive records. Maine's Bowdoin College, whose investment committee includes hedge fund manager Stanley Druckenmiller, class of '75, has one of the best five-year records in higher education with a 9.9 percent average return. It was better than average last year with a loss of 1.4 percent. Even Middlebury College, which lost 4.5 percent over those 12 months, still gained a solid 7 percent annualized over the past decade.

So what happened last year? Most of the schools declined to comment on their investment funds' performance. But clues can be gleaned from some of their annual financial statements. The endowments tended to follow Wall Street's current wisdom to be very broadly diversified, not only holding many different stocks but investing in emerging markets, hedge fund-like strategies, and alternative investments.
Heather Myers, a partner at Aon Hewitt's investment consulting division, says many selective liberal arts colleges have sophisticated portfolio strategies and are willing to take risks that other less-wealthy schools won't. They also tend to have long-standing ties with top managers. "They have different access," she says. "It's a whole different level of insight than other pools of capital."
But it wasn't a very good year for the kind of insight most Wall Street pros have to offer—a fact also reflected in the recent weak performance of the hedge fund industry. "The theory is diversification should protect you, but right now if you're not diversified, you're doing better," says William Jarvis, executive director of Commonfund Institute, which works with nonprofit investors. Over the year ended in June, an index fund portfolio of 60 percent U.S. stocks and 40 percent bonds earned about 4 percent.
Williams College, which had a comparatively small 1.5 percent loss, noted in its fiscal report that while U.S. stocks were up, world markets, and especially emerging markets, fared poorly. The college saw a decline of 7.6 percent in its global equity portfolio. It also held hedge fund-style long-short funds—which can bet on certain securities falling in price—that lost 6.7 percent. The Massachusetts college's $2.4 billion endowment has earned an annualized 7.3 percent over a decade.
"It's fairly typical for a number of endowments to have quite high weighting toward international equities and emerging markets," says Joseph Bohrer, chief investment officer of the $740 million endowment at Lafayette College in Pennsylvania. He says his school leaned more heavily than others toward U.S. stocks, as well as fixed income, which helped it to keep losses to just 0.8 percent, the best showing among the 18 schools.
Union College, founded in 1795, was the worst performer, with a 9.7 percent decline. The Schenectady, N.Y., school's endowment is now worth $390 million. Wall Street is well-represented at Union, which has at least three Goldman Sachs veterans on its board of trustees. David Henle, Goldman's former head of private wealth management, who left to start DLH Capital in 2005, is vice chairman of the board.
The school's annual financial report shows it held hedged equity funds, which fell about 12 percent in value in the year through June. Debt-related funds fell by half. The school had no comment on its investment performance. Union College's average return for the decade through June is 5 percent. That's about what it spends out of the endowment on school operations every year.
The tension between investment earnings and spending from endowments has become an issue across higher education. The strain is particularly pronounced at institutions that typically count on endowments to subsidize more than a third of their operating budgets, as some rich schools do. At the same time, schools are facing pressure to rein in tuition and increase financial aid. Representative Tom Reed, a New York Republican, has proposed legislation to tax some schools if they don't devote a set amount of their investment gains to reducing the cost of attendance.
Haverford College near Philadelphia, which uses its endowment for 25 percent of its operating budget, said in June it was capping financial aid after its credit rating was downgraded amid persistent budget deficits. Haverford lost 2.8 percent in the fiscal year.
Lafayette's Bohrer says underperforming in a volatile year is to be expected from a diversified strategy. "It's tough to say that a one-year period is long enough to say who's doing a good job or not," he says. "These are extremely long-term-focused investment programs."
The bottom line: Liberal arts colleges in the Northeast may be well-connected to Wall Street, but that didn't protect them in a volatile year.
Before it's here, it's on the Bloomberg Terminal.
LEARN MORE