Germany Gets Free Power for Christmas as Wind Power Set to Surge
By
Electricity prices turn negative amid mild weather, low demand

Negative rates mean large consumers can be paid to use power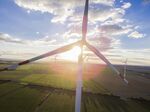 The price of power for delivery on Christmas Day in Germany turned negative as a surge in wind generation is forecast to boost supply.
Prices may be below zero for hours or even whole days during the holiday season as German wind output is predicted to climb to near-record levels and temperatures are set to increase more than 5 degrees Celsius (9 Fahrenheit) above normal.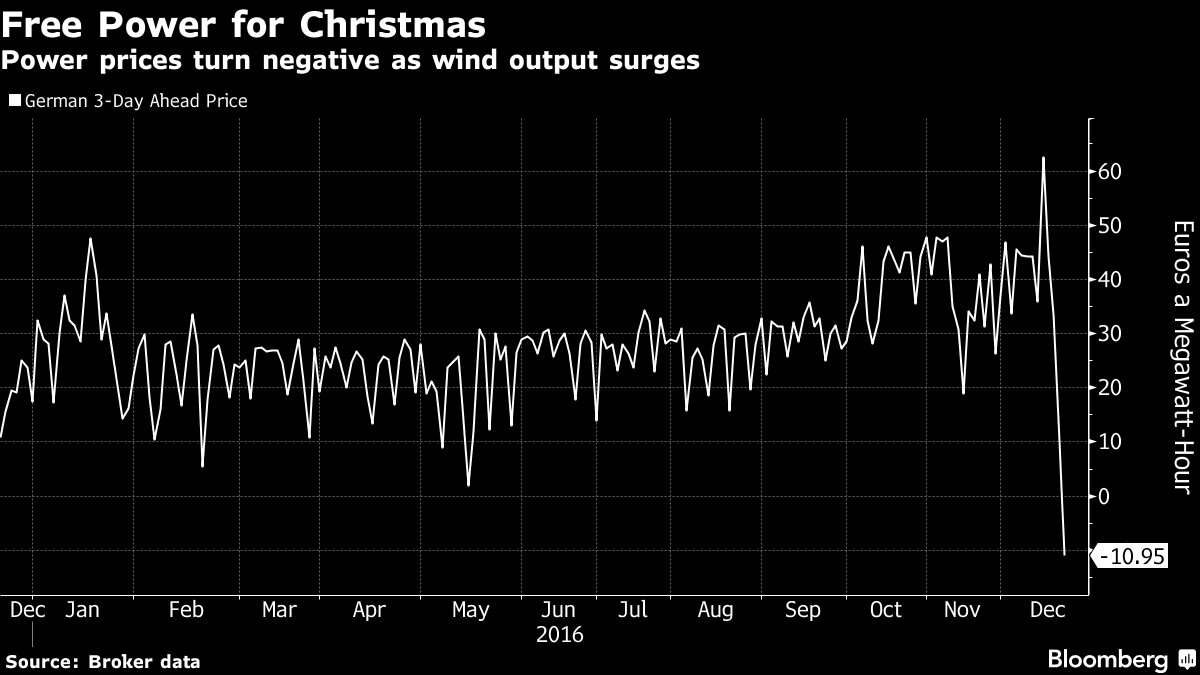 The negative prices are "driven by low power demand during the holiday season when factories are shut, and people go on vacation or visit their families," Elchin Mammadov, an analyst at Bloomberg Intelligence said. "There are far fewer outages this year than the same time last year and wind availability is expected to be high."
Germany's grid operators can struggle to keep the network balanced when there are high amounts of wind generation that need to be moved from the north to demand centers in the south. Negative prices mean that producers must either shut down power stations to reduce supply or pay consumers to take the electricity off the grid.
Wind generation is forecast to peak at 31.3 gigawatts on Dec. 25 before rising to 33.7 gigawatts on Dec. 27, close to the record 33.8 gigawatts in February, according to Bloomberg's wind model and data from the European Energy Exchange AG. One gigawatt is enough to power 2 million European homes.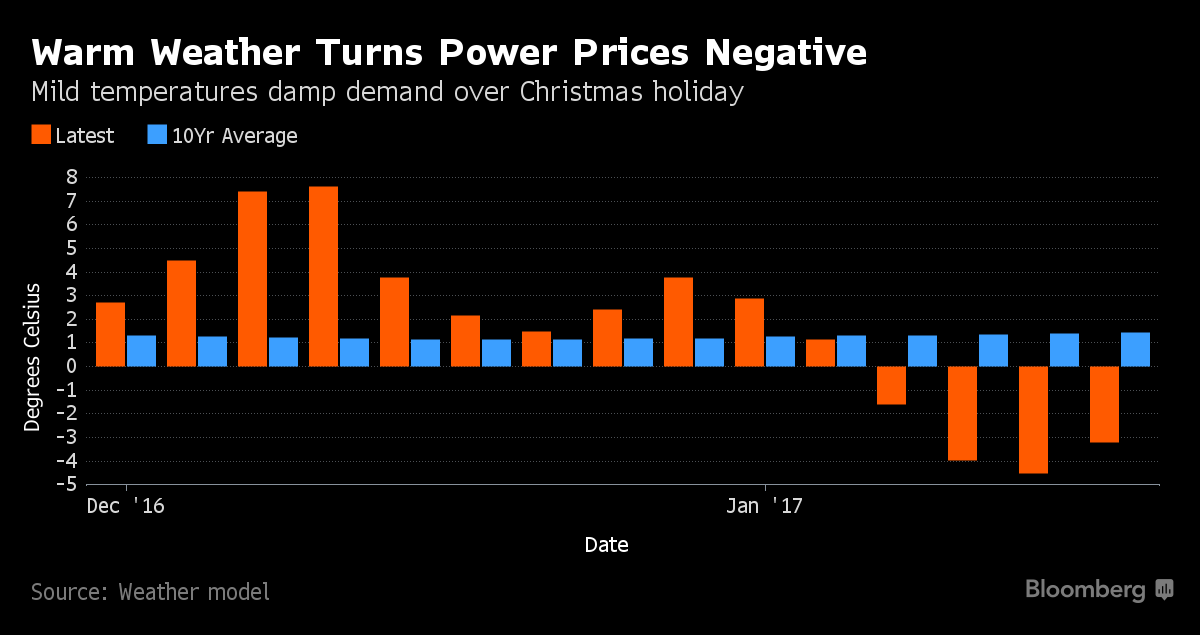 Mild weather can reduce heating demand. High pressure is forecast to spread across Europe during the next five days, bringing widespread above-normal temperatures, according to MDA Information LLC. The warmest conditions are expected in Germany.
Power for delivery on Dec. 25 dropped to minus 10.95 euros ($11.45) a megawatt-hour, according to broker data compiled by Bloomberg. German power prices have turned negative in previous holiday periods. The day-ahead price fell to minus 56.87 euros a megawatt-hour on Dec. 24, 2012, and was also negative at Christmas in 2013, according to Epex Spot SE in Paris.
Storm Barbara is expected to boost wind levels in the U.K. to record levels on Friday. The Met Office has issued a weather warning as 90 mile-an-hour winds are forecast in Scotland.
Before it's here, it's on the Bloomberg Terminal.
LEARN MORE