Why Trump Has Strong Hand in Confirmation Process: QuickTake Q&A
By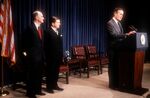 Even billionaires can't get into a president's Cabinet without vetting by the U.S. Senate. Donald Trump's choices to lead executive branch departments -- and join the line of succession to the presidency -- are among hundreds of nominees who will submit information to, and answer questions from, senators whose constitutional duty is to offer "advice and consent" on presidential appointments. Nominees are hardly ever rejected, especially at the Cabinet level, and Trump has an advantage because his fellow Republicans control the Senate. The outlook for his nominees is better still, due to a rule change that Democrats might now be regretting. 
1. How often does the Senate turn down a president's nominee?
Very rarely. The last time came in 1989, when a Democratic-controlled Senate rejected Republican George H.W. Bush's selection of John Tower as defense secretary. Before Tower, only eight Cabinet-level nominees had suffered such a fate, including four picks of President John Tyler in 1843-1844. Twelve other nominations for Cabinet posts were withdrawn under controversy, with half of those occurring under the last three presidents.
2. Who needs Senate confirmation?
Lots of people, and not just at the start of a presidency. The Senate, during a typical two-year term, considers about 2,000 nominations to judgeships, the Foreign Service and government agencies and commissions. That's on top of about 65,000 military appointments and promotions. To handle the crush, the Senate often approves hundreds of nominations at one time. That leaves a few hundred nominations each year that get Senate investigations and public hearings.
3. Why so many?
The Senate's scrutiny goes far beyond Cabinet secretaries. In the Treasury Department alone, presidential appointees who require Senate confirmation include the deputy secretary, three undersecretaries, six assistant secretaries, two counsels, two regular inspectors general, one special inspector general, and directors of the U.S. Mint, the Office of Financial Research and the Office of Thrift Supervision. Plus some others.
4. How does it work?
The Senate refers each nomination to its committee of jurisdiction, meaning the one that deals most closely with that office. All nominees must disclose financial holdings to, and answer questionnaires from, the relevant committee. A few committees also require three years' worth of tax returns. Hearings begin even before the president takes office; the Senate Judiciary Committee opened hearings on Trump's pick for attorney general, Jeff Sessions, a Republican senator from Alabama, on Jan. 10. The Office of Government Ethics has warned that the flurry of hearings scheduled before Inauguration Day may mean that some nominees' background reviews may not be completed in time.
5. What power does the committee have?
It can report the nomination favorably, unfavorably or without recommendation to the full Senate for a vote. It also can choose to take no action, which can effectively bury a nomination. Most committees have only one or two more Republicans than Democrats, so a Republican defector or two could help Democrats block a nominee.
6. What's the point of this, if so few nominees are rejected?

Even if they can't block nominations, senators can use the well-publicized hearings to influence policy, by extracting promises from nominees or laying down conditions on which the nominee will be judged. Committees can wrangle commitments from nominee to be receptive to their inquiries and invitations once in office.
7. How many votes does it take to win Senate confirmation?

A simple majority of 51, due to a rules change made by Democrats that will now help Trump. Until 1975, it took a vote of two-thirds of senators present (67, generally) to stop debate on a topic and move to a vote. A deal in 1975 reduced that number to 60, which still gave the minority party some sway in choosing what the Senate could consider. In 2013, Senate Democrats, then in the majority, forced through a change to a 51-vote standard. They hoped to break a Republican-led logjam of nominations under Obama. Now, only nominations to the Supreme Court require the support of 60 senators to advance to a vote.
8. What happens if the Senate rejects a nominee?
The process starts again, with a new nomination by the president.
The Reference Shelf
Before it's here, it's on the Bloomberg Terminal.
LEARN MORE