Trump University Fraud Case Judge Calls Students' Deal Fair
By
San Diego federal judge schedules final approval for March 30

President-elect will pay $25 million to settle three lawsuits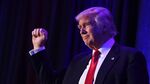 President-elect Donald Trump's $25-million settlement with former students who claimed they were defrauded by his namesake university won preliminary court approval.
U.S. District Judge Gonzalo Curiel in San Diego said in a ruling Tuesday that the settlement, which will reimburse the students about half of what they paid for the Trump University real-estate seminars less refunds they already received, was fair and adequate.
The judge gave the students, some of whom paid as much as $35,000 for the seminars, 75 days to file objections to the settlement. A final approval hearing is set for March 30.
"In light of the multiple risks of continued litigation, the complexity of individualized damages determinations, and the likelihood of delay of any recovery, the court preliminarily finds that the estimated amount of recovery that eligible class members will receive is fair, adequate, and reasonable," Curiel said.
Trump last month agreed to settle claims that his defunct Trump University cheated more than 6,000 students with false promises of teaching them his real estate secrets. The accord resolves two class-action lawsuits in California by former students, as well as a fraud case filed in 2013 by New York's attorney general. A lawyer for the Trump Organization said at the time that the president-elect, with his Jan. 20 inauguration approaching, was settling the
case so he could devote his attention to his public duties.
The first case had been scheduled for trial Nov. 28.
The judge, whom Trump attacked during the campaign as being biased against him because of his Mexican heritage, had urged Trump and the former students to settle the case to avert what would have been the first trial in U.S. history to feature testimony from a president-elect.
The San Diego cases are Low v. Trump University, 10-cv-00840, and Cohen v. Trump, 13-cv-02519, U.S. District Court, Southern District of California (San Diego). The New York case is The People of the State of New York v. Trump Entrepreneur Initiative LLC, 451463/2013, New York State Supreme Court (Manhattan).
Before it's here, it's on the Bloomberg Terminal.
LEARN MORE