Spain's Households Toast Mortgage Win While Italy's See Bond Hit
by , , and
Borrowers may claim back thousands in overcharged interest

Court ruling puts more pressure on Spain's struggling banks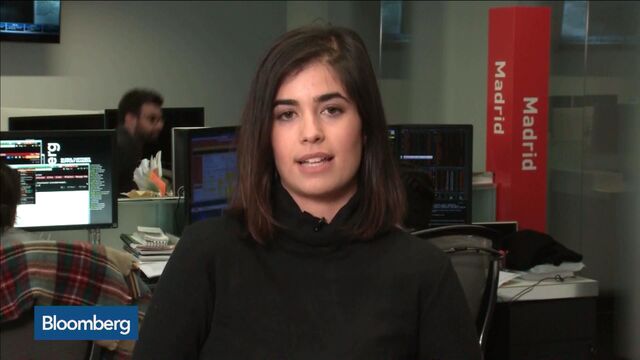 Ivan Muniz is starting to think how he would spend the 6,000 euros ($6,300) he estimates he could win back from his bank for charging him too much for his Spanish mortgage.
"I would like to go traveling -- to New York or maybe also London," said Muniz, a steelworks quality-control inspector from Gijon in northern Spain. "It was time that someone put their fist down and said that what banks were charging wasn't right."
Spanish banks and borrowers are assessing the impact of a ruling by Europe's top court that lenders charged too much for mortgages. The decision could mean a potential bonanza for homeowners in the form of compensation. That contrasts with Italy, where bondholders are bracing for massive losses as the country's troubled banks face the prospect of being nationalized.
"The behavior of banks has been very negative over many years due to the lack of transparency in their relationship with clients," Carlos Sancho, a lawyer and senior lecturer of financial management at IESE Business School, said by phone. "Banks need to start playing fairly with clients -- it's incredible the stubborn resistance they have had to face on this issue."
Mortgage Floors
In this case, clauses in loan contracts enabled banks to refuse to pass on the impact of falling interest rates to customers. Borrowers who paid too much interest on home loans before a May 2013 Spanish ruling on so-called mortgage floors are entitled to a refund from their banks, judges at the EU Court of Justice ruled in Luxembourg on Wednesday.
That's good news for Muniz, who took out a mortgage in 2008. His mortgage agreement included a floor clause that meant he would never pay less than 4.25 percent on his loan even as interest rates plunged. While his bank agreed to remove the floor on his mortgage, he can now expect to win back the extra interest he paid over the whole life of the loan.

While the Spanish government sought European Union funds to rescue its weakest lenders, including Bankia SA, in 2012, Italy is only starting to get to grips with its banking crisis. Italian lenders are on course to receive a 20 billion-euro rescue package proposed Monday by the government, in a plan that will probably see Banca Monte dei Paschi di Siena SpA receive state aid.
The households that helped prop up the Italian banks by buying some of their riskiest bonds are now expected to be hit by huge losses.
Spanish lenders responded quickly to the news of the ruling from the European Union's Court of Justice. The Bank of Spain estimated the maximum amount of mortgage floors affected by the ruling is slightly more than 4 billion euros. Banco Bilbao Vizcaya Argentaria SA said it expects a 404 million-euro impact on profit as it made provisions to cover claims relating to the ruling.
Lawyers, as well as bank customers, were also assessing how much money they can claim back from lenders that wrote the clauses into mortgage contracts.
Ringing Phones
"The phones haven't stopped ringing today," said Pedro Sevilla, head of marketing department at Arriaga Asociados, a Madrid-based law firm. "About 2,500 of our consumers are directly affected by mortgage floors, and we estimate that 10,000 more borrowers contacted us while waiting for the EU court ruling."
The ruling is a blow for Spanish banks as they battle to generate revenue in an environment of ultra-low interest rates that have trimmed yields on more than 520 billion euros of mortgages on their books, as well as other loans.
"It's another bill that has to be added to the list," said Benjie Creelan-Sandford, a banking analyst at Jefferies Group. "It's certainly an unwelcome Christmas present from the court."
Spain's banking association said it was necessary to see the detail of the ruling and study how it could be applied. "Affected banks are open to direct dialogue with clients to enable the application of this ruling," the association said.
Eduardo Martinez Cobo, 55, a former worker at Seville's public-lighting service company, is already enjoying the savings he has after his lender removed the floor attached to his mortgage last year.
He's now paying about 241 euros on his loan, compared with more than 330 euros previously, after the interest rate came down from a minimum of 4.5 percent to less than 1 percent. He said he used the money saved to help pay for dental work and now expects that the court decision could lead to a further windfall.
"It's like the story of David and Goliath," Martinez Cobo said by phone. "It's a total defeat for the banks."
Before it's here, it's on the Bloomberg Terminal.
LEARN MORE