Premier League Said to Meet U.S. Owners on Soccer Agent Concerns
By and
CEO Scudamore met with team owners, NFL and NBA recently

FIFA and other major clubs concerned about soccer's dealmakers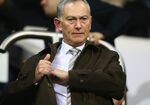 Top officials from soccer's English Premier League, including Chief Executive Officer Richard Scudamore, met with U.S.-based owners in New York last month to discuss ways to tighten oversight of player agents in the sport, according to people familiar with the matter.
Those present at the meeting at the Crosby Street Hotel on Nov. 28 included a member of the Glazer family that controls Manchester United, along with Liverpool's John Henry; Arsenal's Stan Kroenke and Crystal Palace co-owners Josh Harris and David Blitzer. Tottenham owner Joe Lewis, the Bahamas-based British businessman, was also present, according to the people, who asked not to be identified because the meeting was private.
The role of player agents in soccer's $5 billion transfer market was among owners' biggest concerns, though the talks covered a number of other themes, according to the people. Team owners are worried about a lack of regulation over agents, the amounts paid out in fees and media reports about malfeasance in the industry, according to the people.
Also present at the meeting in New York were Swansea's Steve Kaplan and Sunderland's Ellis Short, the people said.
League Talks
Scudamore, joined by Premier League Policy Director Bill Bush and Managing Director Richard Masters, also discussed the issue separately as part of wider talks with the National Football League and National Basketball Association, the people said.
The Premier League declined to comment on the meeting, saying it's normal for its top executives to meet with club owners and other leagues.
Last season Manchester United paid out more than 10 million pounds ($12.4 million) to agents during a single four-month period between October and February, according to official data. That was the highest among 20 Premier League teams, which spent 46.6 million pounds over the period.
The majority of U.S.-based Premier League owners have major interests in American sports teams. Liverpool's Henry controls baseball's Boston Red Sox, the Glazers own the Tampa Bay Buccaneers football team, and Arsenal owner Stan Kroenke backs football's Los Angeles Rams, basketball's Denver Nuggets and soccer's Colorado Rapids.
In the U.S., agents are governed by agreements with player unions that cap fees. Creating such an agreement in soccer is difficult because of the global nature of the player-trading market and the lack of collective bargaining agreements. Complicating matters was the 2014 decision by FIFA, soccer's governing body, to stop licensing player agents, making it possible for almost anyone to act as an intermediary.
'Moneymaking Exercise'
The biggest players' union, FIFPro, which represents 65,000 athletes worldwide, said it would be interested in seeing a version of the U.S. system in soccer.
"The transfer market is becoming ever more of a moneymaking exercise, where footballers are vulnerable to exploitation by agents or third parties," FIFPro said in a statement. "The U.S. sports model of regulating agents is interesting to FIFPro because it is based on a collective agreement between clubs and player associations."
The U.K.-based Association of Football Agents has said "the global move to deregulation has not worked" and has "allowed the system to be more open to manipulation and abuse."
FIFA President Gianni Infantino, who took over in February, said in November he'd like to see a list of payments to agents made public to clear up the perception that the transfer market is murky. In October, the owner of Italy's Napoli, Aurelio de Laurentiis, called agents "the cancer of football."
"I found there were a number of agents you just don't deal with because they're just not going to act in an ethical manner," Mark Pannes, an American former CEO of AS Roma, said in an interview.
Creating Churn
As well as getting paid a percentage of a player's annual salary, agents in soccer can score big by getting a cut of the trading fee. The club Juventus said agent Mino Raiola got paid 27 million euros ($28.2 million) when Manchester United bought Paul Pogba from the Italian champion for more than 100 million euros in August.
Some agents are creating "churn" to reap higher rewards, said Pannes.
"Good young players being taken out of the right situation for them and transferred simply for the churn and the fees and often ending up in a worse situation," he said.
Before it's here, it's on the Bloomberg Terminal.
LEARN MORE