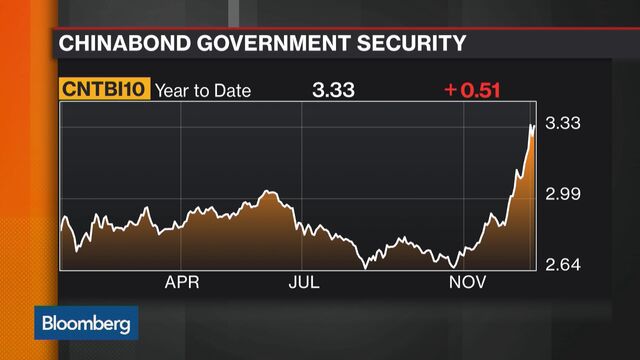 There's another Chinese financial practice that's prompting high-decibel warnings. So-called entrusted bond holdings are a way for financial institutions to skirt rules on using borrowed money to invest in bonds. How? By getting a third party to buy the bonds and agreeing to purchase them at a later date. What could possibly go wrong? How about the worst rout in China's bond market in a decade. That's left regulators concerned about the prospect of investors failing to make good on such arrangements, estimated to involve at least $144 billion of bonds.
1. Why entrust us with this news only now?
Concerns about entrusted bond holdings have worsened the tumble in the debt market. Last week, Caixin cited market rumors when it reported a brokerage called Sealand Securities Co. had refused to take over bonds held by a counterparty. That got investors worried. Oversea-Chinese Banking Corp. then said in a note, citing media reports it didn't identify, that the entrusted holding agreement may have been tied to alleged fraud by ex-staff. Sealand cleared the air when it said it would in fact fulfill the bond contracts that had been stamped with a forged seal. The whole incident was enough to frighten an already jittery market.
2. So why do investors use entrusted holding agreements?
Brokerages and other institutional investors ask counterparties to buy bonds from them when they need to circumvent internal rules on note holdings and leverage, according to Xu Hanfei, a bond analyst at Guotai Junan Securities Co. Or they can simply have third parties buy the notes directly from the market. The practice boosts leverage by effectively giving the financial institutions loans: As brokerages and institutional investors don't carry the bonds on their books, they can use the funds freed up on paper to purchase more bonds, which can then be rolled into more such agreements. "Non-bank financial institutions, which emphasize returns, have more motivation to amplify leverage through entrusted holdings," said Li Liuyang, a market analyst at Bank of Tokyo-Mitsubishi UFJ in Shanghai.
3. How widespread is the practice?
Outstanding entrusted holdings are "in the trillions of yuan," according to Guotai Junan's Xu. That estimate is based on the bond holdings of the brokerages and smaller banks that are major participants in such transactions. That means the amount of money tied up in such deals is at least 5 percent of the 21 trillion yuan ($3 trillion) of outstanding corporate notes in China, according to data compiled by Bloomberg.
4. What broader risks does it pose to China's financial markets?
A default in an entrusted holding could turn what otherwise might have been a problem with one company's liquidity into a broader credit event, given that multiple parties may be involved, according to Li at Bank of Tokyo-Mitsubishi UFJ. Li says "everyone is worried about similar situations in their transactions with non-bank financial institutions." OCBC said that things had got so bad that banks were reluctant to lend to non-bank institutions amid a breakdown in trust between investors.
5. What are regulators doing about it?
Authorities including the central bank and the China Securities Regulatory Commission are investigating some financial institutions' entrusted bond holdings after the Sealand incident, people familiar with the matter said Tuesday. The holdings run contrary to the central bank's push to trim investments made on borrowed money, according to China Merchants Bank Co. "It's just a question of when Chinese regulators will clean up entrusted bond holdings," said Liu Dongliang, a senior analyst at the bank. Tommy Xie, an economist in Singapore at OCBC, says China's market rout may prompt regulators to strengthen rules on entrusted holdings. He describes them as "a common practice in the grey area of the bond market."
6. Isn't China already grappling with rampant bond leverage?
The People's Bank of China is pushing up money market rates to curb leverage in the bond market. Regulators are tightening rules on wealth-management products, which have surged in value to $3.9 trillion. The leverage cut has caused a market rout this month. China's shadow banking assets are the fastest-growing among the major economies. Shadow credit — which consists of trust loans, entrusted loans and bank-acceptance bills — rose sharply to 479 billion yuan in November, after having dropped to 55 billion yuan in October. 
The Reference Shelf
A Bloomberg story on China's regulators said to be investigating entrusted bond holdings.
A Bloomberg article on Sealand Securities saying it will honor bond contracts bearing forged seals.
A Bloomberg story on Sealand Securities conducting internal checks as the bond market slumps.
A QuickTake on shadow banking.
— With assistance by Xize Kang, Ling Zeng, Judy Chen, and Charlie Zhu
Before it's here, it's on the Bloomberg Terminal.
LEARN MORE