Bank Mergers Spread in Mideast as Low Oil Signals Boom Days Over
By
Masraf, Barwa and IBQ could form Qatar's top Islamic lender

Merger talks follow restructuring of region's sovereign funds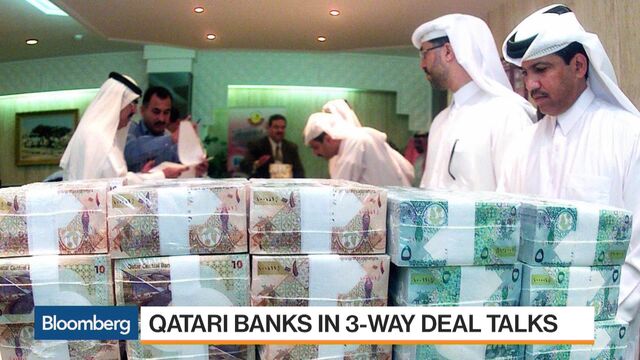 For oil-rich Persian Gulf states, 2016 has been all about consolidation.
Oil's more than 50 percent plunge over the past two years is forcing countries such as the United Arab Emirates, Qatar and Saudi Arabia to cut state spending, tap reserves and combine some of their largest banks to reduce costs and duplication.
In Qatar, Masraf Al Rayan QSC, Barwa Bank QSC and International Bank of Qatar QSC said this week they are in talks to create the country's largest sharia-compliant bank and the third-largest such lender in the Middle East, with assets worth more than 160 billion riyals ($44 billion). Talks are at an early stage, according to the banks, which didn't give details on the structure of the possible deal.
Those plans follow a similar move earlier this year by Abu Dhabi lenders National Bank of Abu Dhabi PJSC and First Gulf Bank PJSC to create one of the largest bank's in the Middle East with $175 billion of assets. The combinations come as the industry battles falling profits because of lower government spending, slower economic growth and a decline in asset quality.
Regional consolidation is an "easy first step to stemming government spending," said Allison Wood, a Dubai-based consultant at Control Risks Group Ltd. "It's not a complete solution to the fiscal problems that these states face. They need a much broader reform package."

The planned merger of Masraf -- with a market value of about $7.3 billion -- with privately held Barwa and IBQ is intended to "strengthen the banks rather than acquire new market share," said Talal Samhouri, head of asset management at Doha-based Amwal LLC.
The combination will "strengthen the balance sheets of these banks, and also cut costs by consolidating back office, services, and other areas to unify operations," he said. "They have a small retail network with limited exposure outside Qatar, so will complement each other."
The shortage of liquidity in Qatar became more serious this year than during the financial crisis in 2008, Doha Bank QSC Chief Executive Officer Raghavan Seetharaman said in May, the same month that the government sold $9 billion of Eurobonds.
State Mergers
Banks aren't the only entities being merged. Qatar is also consolidating its state-owned liquefied natural gas producers Qatar Liquefied Gas Co. and Ras Laffan Liquefied Natural Gas Co. in a move that will save hundreds of millions of dollars, Qatar Petroleum Chief Executive Officer Saad al-Kaabi said earlier this month. QP, the world's biggest producer of liquefied natural gas, took over its foreign investment arm Qatar Petroleum International last year, as part of an eight-month restructuring.
The region's sovereign wealth funds -- some of the world's biggest -- aren't immune either.
Qatar Investment Authority is undergoing its biggest overhaul since 2014, grouping $100 billion of investments in local companies into a new unit and abandoning the Qatar Holding name synonymous with its highest-profile deals, people with knowledge of the matter said in May. The fund's stakes in companies such as Qatar Airways and Qatar National Bank SAQ will be placed into a new internal division named Qatar Investments, the people said.
Read more about Qatar Investment Authority's restructuring.
Mubadala Development Co. and International Petroleum Investment Co., two of Abu Dhabi's largest sovereign funds, are merging to create an entity with assets of about $135 billion and debt of about $42 billion. The emirate is reining in spending as the decline in oil prices slows economic growth and plans to cut costs by combining the investment funds with common assets in areas such as energy, financial services, health care.
More Consolidation
While some of the biggest mergers may have already happened in Qatar this year, according to Control Risk's Wood, consolidation is likely to continue into 2017.
Abu Dhabi is considering more mergers to boost its financial services industry after combining NBAD and FGB, people with knowledge of the matter said last month. The emirate is weighing a plan to merge Abu Dhabi Commercial Bank PJSC and Union National Bank PJSC and also combine Abu Dhabi Islamic Bank PJSC with Al-Hilal Bank PJSC, they said.
"Some government agencies and departments, banks and state-affiliated entities may go ahead with consolidations," said Wood. "Petrochemicals and real estate are also two to watch."
— With assistance by Arif Sharif
Before it's here, it's on the Bloomberg Terminal.
LEARN MORE