'Tis the Season to Watch Vladimir Putin's Annual News Conference
by , , and
More than 1,400 journalists accredited for event on Friday

Donald Trump, terrorism and the economy may be key themes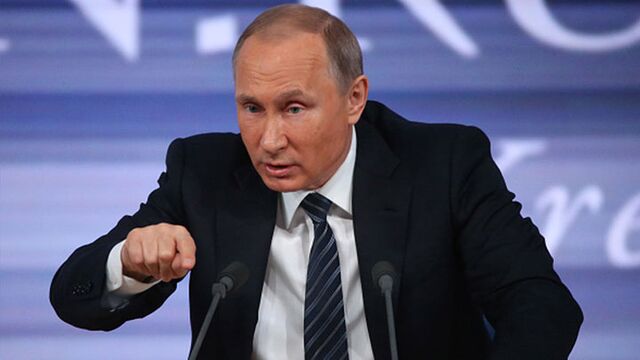 While much of the rest of the world awaits Santa Claus on Friday, in Russia it's time for President Vladimir Putin's annual televised press conference.
More than 1,400 journalists are accredited from across the world's largest country and abroad for the marathon event, which lasted three hours in 2015. It was switched from Thursday at the last moment so that Putin can attend the funeral of Andrey Karlov, the Russian ambassador murdered in Turkey.
Reporters at past conferences have tried to catch Putin's eye by waving cuddly toys or homemade signs. Questions range from global geopolitics and prospects for the economy to parochial controversies and even occasionally attempts to glean information about Putin's private life, an area normally off limits. Here are some key themes to watch for:
Trump Ties
Putin quipped to reporters after last year's event that Donald Trump was a "colorful personality" and the "absolute leader" in the race for the White House, giving a boost to the long-shot contender's profile. Now the Kremlin eagerly anticipates improved ties with the U.S. when the President-elect takes office next month, and possibly a lifting of sanctions imposed in 2014 over the Ukrainian conflict.
While U.S. intelligence allegations of Russian hacking in support of Trump's campaign continue to reverberate in Washington, there's satisfaction in Moscow that the billionaire's picks for his security and foreign policy team may herald a new era of cooperation. The Kremlin denies any involvement in hacking.
Turkey, Syria and Terrorism
The envoy's assassination has thrust Russia's relations with Turkey to the forefront again, though the tone couldn't be more different than in 2015 when a furious Putin accused President Recep Tayyip Erdogan of a "stab in the back" after Turkish jets shot down a Russian warplane on the Syrian border. Now both countries are pledging to deepen cooperation in response to Monday's tragedy, including in the fight against terrorism.
Russia, Turkey and Iran, the three major powers with military forces in Syria, put aside their backing for opposing groups in the almost six-year conflict to announce joint efforts toward securing a cease-fire and peace talks after meeting Tuesday in Moscow. With the U.S. apparently sidelined by the deal, Putin may take the opportunity to trumpet Russia's return as a great power in the Middle East.
Fourth Term
Putin may be asked about plans to seek a fourth presidential term in what may be his penultimate press conference before the March 2018 elections. He usually deflects such questions by saying it's too early to decide. But he may be stung into something more definite this time by the fact that his most vocal critic, Alexey Navalny, who led the biggest protests of Putin's rule in 2011-2012, has already declared his intention to run.
Energy
With oil and gas providing 37 percent of Russia's budget revenue, energy prices are always a hot topic and Putin has good reason to comment after helping to clinch two giant deals this month. The ink's still drying on the $11 billion sale of 19.5 percent of state-controlled Rosneft PJSC to Glencore Plc and Qatar's sovereign wealth fund, while Russia helped seal a pact between OPEC countries and 11 non-OPEC states to curb oil production in the first half of next year to support crude prices.
The first such agreement in 15 years will bring at least 1 trillion rubles ($16 billion) to Russia's treasury, according to VTB Capital and Morgan Stanley estimates. Putin played a key role in the process, talking to global leaders and Russia's oil executives, according to Energy Minister Alexander Novak and the Kremlin. 
Economic Cheer?
The economy of the world's largest energy exporter is clawing its way out of a second year of recession, its longest contraction this century, and the Bank of Russia forecasts a return to growth in 2017. Putin said last year that Russia had overcome "the peak of the crisis, not the crisis itself" and he may strike a more upbeat tone this time.
With consumer demand stagnant and the central bank warning that future annual growth won't exceed 2 percent without structural reforms, any optimism will be tempered by the economic pain still being endured by many Russians watching Putin on TV. The government's 2016 budget deficit is the widest since 2010 and Finance Minister Anton Siluanov has said any windfall from higher oil prices should be used at least partly to replenish reserves.
Final Twists
As his Trump comments showed, Putin's made a habit of dropping news bombshells to the scrum of journalists that forms around him after the press conference ends. In 2013, for instance, he announced he'd pardoned former Yukos Oil chief Mikhail Khodorkovsky and was freeing him after a decade in prison.
Before it's here, it's on the Bloomberg Terminal.
LEARN MORE