Trump Seen Paying Off for Putin With Sanctions Relief Coming
By and
Most economists say U.S. to ease sanctions over next 12 months

U.S. president-elect has said he wants to mend ties with Putin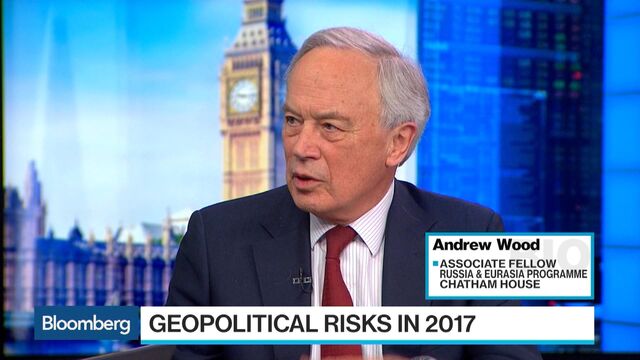 Hard to fathom only months ago, the lifting of U.S. sanctions against Russia is all but certain for most economists.
The U.S. will start easing its penalties, imposed over the showdown in Ukraine in 2014, during the next 12 months, according to 55 percent of respondents in a Bloomberg survey, up from 10 percent in an October poll. Without the restrictions, Russia's economic growth would get a boost equivalent to 0.2 percentage point of gross domestic product next year and 0.5 percentage point in 2018, according to the median estimates in the poll. 

Donald Trump's surprise election in November is feeding expectations of a sea change in U.S. policy even after the European Union this week rolled over its economic penalties against Russia for an additional six months. While Trump has given no indication of how he plans to follow up on promises to mend ties with Russia, his chief of staff this month didn't confirm if the restrictions will be kept. Meanwhile, the U.S. Treasury Department on Monday added more people and entities to its existing sanctions.
"It's still a toss-up whether the U.S. will ease sanctions quickly, with the EU lagging, but the direction of travel is toward easier sanctions or less enforcement, which could reduce financing costs," said Rachel Ziemba, the New York-based head of emerging markets at 4CAST-RGE. "We think the macro impact would be greater in the medium term than short term as it facilitates a rate easing trend that is already on course. In the longer term, it gives more choice of investment."
Trump, who's called President Vladimir Putin a better leader than Barack Obama, has said he may consider recognizing Russia's annexation of Crimea from Ukraine and lifting the curbs. While dogged by concerns that Russia intervened to tip this year's elections in the Republican candidate's favor, Trump has already showed his hand by planning to stack his administration with officials supportive of closer cooperation with the Kremlin, from Michael Flynn, the president-elect's national security adviser, to Exxon Mobil Corp. chief Rex Tillerson, a candidate for secretary of state.
For a QuickTake Q&A on the Trump-Putin bond, click here
Top Russian officials and bankers believe relief is imminent. Andrey Kostin, chief executive officer of state-run lender VTB Group, said Trump's victory means sanctions will be eased or scrapped altogether. Ruble assets don't fully price in the "high" probability of a change in policy, according to Citigroup Inc., which said last week that a "significant softening" in the U.S. stance is possible after Trump's election.
Growing investor confidence has already been playing out in the market, with the ruble surging to the world's biggest rally this year with a gain of more than 20 percent against the dollar. The benchmark Micex stock index is up almost 27 percent in 2016.
Economists are divided on the impact of the end of sanctions on the exchange rate. While one-third of respondents see the ruble depreciating against the dollar in 2017 as a result of possible sanctions relief, 57 percent said it will strengthen at least 1 percent, 33 percent see a gain of more than 5 percent and 10 percent believe it will gain more than 10 percent. Another 10 percent said the exchange rate would remain largely unaffected.

Trump will only have about six weeks after his inauguration as the 45th president, set for Jan. 20, to decide on the fate of sanctions, which could be lifted without congressional approval. While some of the penalties only include travel restrictions and asset freezes on people the U.S. believes were involved in the Ukraine crisis, the biggest damage came from sanctions that limited access to foreign capital markets for some of Russia's biggest companies, from its top oil producer Rosneft PJSC to the biggest lender Sberbank PJSC.
Trump may stop short of significantly rolling back financial restrictions, with economists surveyed by Bloomberg seeing a 43 percent probability of such a scenario.

An equally important consequence of any policy change by Trump would be its affect on the EU's own penalties on Russia, with more economists saying the bloc will follow suit. Forty percent of respondents said in the Dec. 16-19 survey that the EU will begin easing sanctions in the next 12 months, compared with 33 percent in October.
"If the U.S. eases sanctions, it won't be possible to achieve a consensus among EU member states to keep their sanctions regime in place as currently formulated," said Charles Movit, an economist at IHS Markit in Washington.
Before it's here, it's on the Bloomberg Terminal.
LEARN MORE