Russia, Turkey Vow to Cooperate After Slaying of Envoy
By , , and
Joint pact with Iran seeks Syria talks, truce, Lavrov says

Agreement follows killing of Russian ambassador in Ankara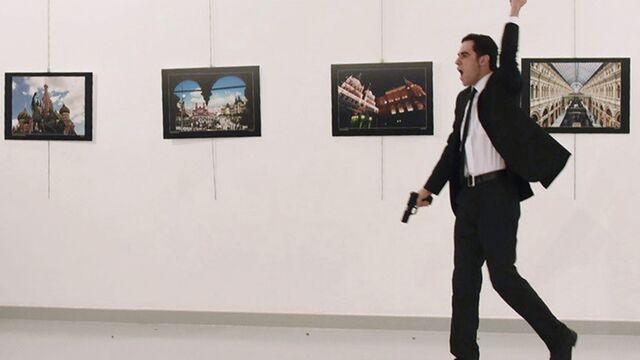 Russia and Turkey said they'll renew a push to resolve the Syrian war and fight terrorism, as they insisted their improved relationship won't be derailed by the murder of the Russian ambassador in Ankara.
The foreign ministers of Russia, Turkey and Iran said in Moscow on Tuesday that they'd agreed on a joint approach to Syria that includes pressing for peace talks and a cease-fire. Their cooperation has proved effective on the ground, while "unfortunately the American side couldn't confirm its participation in actions agreed" under a failed peace deal in September, Russian Foreign Minister Sergei Lavrov said.
The agreement was announced after Russian President Vladimir Putin and Turkish leader Recep Tayyip Erdogan said they'd strengthen ties strained over Syria and intensify the struggle against terrorism following Monday's assassination of envoy Andrey Karlov. "We will never allow our relationship with Russia to be ruined," Erdogan said in Istanbul on Tuesday, adding that he and Putin agreed "that our expanding fields of cooperation with Russia led by Syria will not be affected by this attack."

The gunman who shot Karlov in the back at an art exhibit in the Turkish capital shouted "Allahu akbar" and "don't forget Aleppo" -- a reference to the Syrian city where mostly Islamist rebels were defeated this month by government troops backed by Russia and Iran. The taking of the city, once Syria's largest, represents one of Russia's biggest victories since it joined the Syrian war last year in support of President Bashar al-Assad.
'Terrorist Threat'
Turkey, which supported the insurgents there and elsewhere in Syria, has played a key role along with Russia in negotiating the continuing evacuation of opposition fighters and civilians from Aleppo. The three-way talks with Iran, Assad's other main supporter, were intended to help forge a settlement as Assad increasingly gains the upper hand, leaving the U.S. on the sidelines.
Asked about Lavrov's taunt that the U.S. has failed to deliver on its promises, State Department spokesman John Kirby told reporters in Washington that it's "pretty obvious to see, time and time and time again, that Russia did not meet their commitments with respect to using their considerable influence on the Assad regime to stop the bombing, to stop the gassing, allow aid to get in and to help us create the conditions for political talks."
Russia, Iran and Turkey agreed that "the No. 1 priority shouldn't be regime change but the task of suppressing the terrorist threat," Lavrov said. "We have a common position on this" and are ready to invite the Syrian government and opposition for peace talks in Kazakhstan's capital, Astana, he said.
There's no alternative to a political solution in Syria and "we need to work together in order to put an end to terrorists," Iranian Foreign Minister Mohammad Javad Zarif said. Turkey wants to expand a truce to cover all of Syria excluding terrorist groups, Foreign Minister Mevlut Cavusoglu said.
While they said in a statement that they'd "fight jointly" in Syria against Islamic State and al-Nusra as terrorist groups, there were evident tensions at the foreign ministers' news conference. "There's Hezbollah and others," Cavusoglu said. "Aid to all these groups must be halted."
Joint Investigation
While there's no agreement about other groups, Islamic State and al-Nusra are recognized internationally as terrorist groups, Zarif said. Iran backs Hezbollah, which has fighters in Syria in support of the Assad regime.
The fall of Aleppo marked a defeat for Turkey, which supported the Sunni Muslim groups fighting against Assad. Russia says the Syrian rebels are overwhelmingly made up of Islamic extremists, while Turkey has argued that they're resisting a violent dictatorship.
Read more about the Syrian war outlook after the fall of Aleppo.
While that's still the Turkish line, in practice the country has switched its focus since the rapprochement between Erdogan and Putin. Turkish troops have pushed deep into Syria since August, but they're mostly targeting Kurdish groups and Islamic State fighters and have steered clear of the battle for Aleppo.
Powerful Actors
The U.S., Turkey's NATO ally, shares its allegiance to what the Americans consider "moderate" rebel groups in Syria, even though many of them have maintained ties to al-Qaeda and other Islamist factions.
The U.S. has repeatedly denounced Russia for killing civilians during the campaign to recapture Aleppo, while also seeking an understanding between the two most powerful outside actors in the Syrian war that could help to end the conflict.
Turkish and Russian investigators will jointly probe the attack on Karlov, the first Moscow envoy to be killed in his post in almost 90 years. His body was being flown back to Moscow on Tuesday. Officials made clear that the death won't trigger another crisis in relations between the two countries that have only recently been restored after all but collapsing when Turkish jets shot down a Russian warplane near the Syrian border in November last year.
'Sincerely Grateful'
"We're sincerely grateful to our Turkish colleagues for their immediate reaction to this barbaric crime and for their condolences," Lavrov said at bilateral talks with Cavusoglu after they'd placed flowers under a portrait of the slain diplomat. "There can be no concessions to terrorists," he said.
The killing was intended to harm Russian-Turkish relations and "we won't let that happen," Cavusoglu said. "We must uncover who's behind this heinous terror attack," while the Ankara street where the Russian embassy is located will be renamed after Karlov, he said.
Turkish authorities named the attacker as Mevlut Mert Altintas, a 22-year-old active-duty police officer. He was killed by security forces and his possible connection with organized groups is being probed, Interior Minister Suleyman Soylu said. The gunman's mother, sister and a friend who shared an Ankara apartment with him have been detained for questioning, prosecutors said.
— With assistance by Elena Mazneva, Torrey Clark, Ilya Khrennikov, Benjamin Harvey, Nick Wadhams, and Selcan Hacaoglu
Before it's here, it's on the Bloomberg Terminal.
LEARN MORE