Past Perfect, Future Tense: Global Hedge-Fund Industry in Charts
By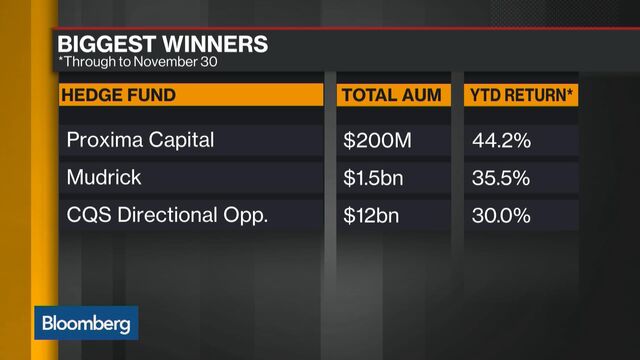 The $3 trillion global hedge fund industry is heading into 2017 amid a widespread backlash from clients who are asking for their money back because of years of poor returns and high fees. The total number of funds in the industry fell for the first time on record, while many of the world's best-known companies were forced to cut fees. But the industry got an unexpected boost last month when volatility sparked by Donald Trump's election victory bolstered returns -- reversing the fortunes of some funds -- and showed signs of being a boon going forward.

Investors pulled almost $80 billion from hedge funds through Dec. 16 this year, the first net outflows from the industry since 2009, according to preliminary estimates from data provider eVestment. Some of the largest players in the industry, such as Brevan Howard Asset Management, Och-Ziff Capital Management Group LLC and John Paulson's hedge fund firm, suffered outflows.

The traditional 2 percent management and 20 percent performance-fee model of hedge funds faced pressure. Louis Bacon's Moore Capital Management, Tudor Investment Corp., Och-Ziff Capital Management Group LLC, Canyon Capital Advisors and Brevan Howard Asset Management were among money managers who cut fees this year.

The global hedge fund industry shrunk by number for the first time since at least 2000, when Eurekahedge started compiling the data. The contraction was led by funds in Europe, where poor returns, the mounting cost of regulatory compliance and investors' reluctance to allocate capital led to more funds closing than starting.

Total assets managed by hedge funds globally rose for the eighth straight year to $2.97 trillion at the end of September, primarily because performance gains more than offset money pulled by investors.

The fund of hedge funds industry is on track to record highest net outflows in three years as clients continue to cut fees to middlemen and invest directly. The number of funds operating globally declined to 1,577 at the end of September from 2,462 in 2007, according to Hedge Fund Research Inc. Assets under management decreased by $162 billion to $636.3 billion during the period.

Inflows from large institutions such as pensions, endowments and insurance companies have led to assets being concentrated in fewer, well-known firms. Hedge Funds with more than $5 billion in assets control 68.6 percent of the industry assets, up from 61 percent at the end of 2009, according to data from Hedge Fund Research Inc. The shift accelerated after the financial crisis of 2008 as investors looked for safety in larger money managers.

Hedge funds gained 4.5 percent through November this year, primarily because of their performance in the second half of the year and volatility sparked by Donald Trump's surprise victory in the U.S. presidential election in November. Hedge Funds aiming to profit from corporate events were the top performers, while those betting on economic trends lagged, according to Hedge Fund Research Inc.

In a world awash in data, an increasing number of hedge funds are banking on quantitative techniques to make money and investors are allocating more capital to them. Managed futures, a hedge fund strategy that uses mathematical models to bet across asset classes, raised $19.3 billion through October this year, according to eVestment, while the rest of the industry suffered withdrawals.

The U.K. remains the hedge fund capital of Europe and is home to 20 percent of the world's hedge funds in 2016 as compared to 18 percent in 2010. However, Britain's decision to leave the European Union has some money managers and investors worried. Six percent of hedge funds are considering moving operations outside U.K. compared to 3 percent in July, according to a survey by data provider Preqin.

Greater China-focused hedge funds on average declined 2.5 percent this year through November, after plunging 8.8 percent in January. About 97 percent of the funds tracked by Eurekahedge lost money in January, against 83 percent of all Asian hedge funds. By November, 68 percent of Greater China funds were still in the negative returns territory, versus 45 percent of all Asian funds, according to data from Eurekahedge. The Hang Seng China Enterprises Index gained 1.8 percent through November this year.