Kuwaitis Chose Trump Hotel, But Not After Pressure: Ambassador
By
Al-Sabah says he wants to give guests 'a new experience'

Feb. 25 reception was to have been held at Four Seasons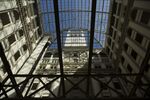 The Kuwaiti embassy plans to hold its national-day celebration in February at the new Trump International Hotel Washington D.C. -- but only because it's a cool new venue, the country's ambassador to the U.S. says.
Ambassador Salem Al-Sabah denied a report that the choice of hotel was made after the embassy was pressured by President-elect Donald Trump's business managers.
"I wanted to give our guests a new experience," Al-Sabah said in a telephone interview, noting the embassy of Kuwait's previous National Day celebration was held at the Newseum, a Washington museum devoted to free expression. Trump's hotel opened in September.
He decided on Trump's hotel "because I thought it was exciting," Al-Sabah said.
The website Thinkprogress.org on Monday reported that the embassy abruptly canceled a contract to hold the country's independence-day celebration at the Four Seasons in Georgetown and switched to the Trump hotel because of pressure from the Trump Organization. The article cited an unidentified source with direct knowledge of the arrangements between the hotels and the embassy and documentary evidence confirming the source's account.
"The article is totally false and unfounded," Al-Sabah said. "We were not pressured by anybody. I do not know President Trump. No one from his side has ever called me to hold the event at the Trump hotel."
Patricia Tang, director of sales and marketing for the Trump International hotel in Washington, and Liliana Baldassari, a spokeswoman for the Four Seasons in Georgetown, both declined to comment.
Read More: About Those Trump Conflict-of-Interest Worries: QuickTake
"There was no contract between us and the Four Seasons," the Kuwaiti ambassador said. "That was just an agreement on saving the date. It was a written agreement." He said the embassy had frequently held its National Day reception at the Four Seasons over the last decade.
Trump's new luxury hotel in Washington has become a flash point for his conflicts of interest as president, raising questions about whether any patronage could be interpreted as violating the emoluments clause of the U.S. Constitution, which bars government officials from accepting gifts or payments from foreign governments.
"I'm not versed in U.S. law as far as this is concerned," Al-Sabah said.
The reception will take place on Feb. 25 from 6 p.m. to 8 p.m. in a Trump hotel ballroom, he said.
Before it's here, it's on the Bloomberg Terminal.
LEARN MORE