Politics
China's Island-Building Skills Lift Hopes in Duterte's Backyard
By
Three artificial islands to boost new port in Davao City

Company that built up reefs in South China Sea is key investor
Among the first to gain from Philippine President Rodrigo Duterte's China pivot could be the people who live on rickety wooden stilt-houses in a waterlogged area of his hometown of Davao City.
Chinese investors are set to spend $200 million to raise three islands from the sea to create a new port. Residents in the area known as Isla Verde aren't worried that one of the companies is CCCC Dredging Group Co. Ltd., which helped turn a handful of rocks and reefs in the South China Sea into a chain of Chinese maritime outposts that threaten Philippine territorial claims.

"I don't care who builds the islands on the sea," said Eddie Piling, 43, whose makeshift house with no plumbing may have to be demolished to make way for the development. "I heard about CCCC Dredging in one of the village meetings but we don't mind as long as we benefit."
China's involvement in developing the Davao coastline is a direct result of Duterte's October visit to Beijing, when he secured investment and credit pledges worth $24 billion. It's also a prime example of the economic pragmatism that he says justifies striking a balance between the U.S., the Philippines's top military ally, and China, its top trading partner.
Optimism is growing in the Philippine business community over closer economic ties with China, in part because few countries have similar amounts of capital to spend, according to Eufracia Taylor, Asia analyst at risk advisory company Verisk Maplecroft. Still, she said, cooperation "can go only so far before the issue of sovereignty rears its head."

"The relationship between the Philippines and China is at best a marriage of convenience, based on a shaky truce on the South China Sea," Taylor said.
Malcolm Cook, a senior fellow at the ISEAS-Yusof Ishak Institute in Singapore, points out that the actualization rate for Chinese foreign direct investment pledges in the region is lower compared with Japan and the U.S.
"Chinese investment and financing are likely to grow and give Duterte the opportunity to praise Chinese commitments as benefits of his changed foreign policy," Cook said. "But I doubt that there will be $24 billion as promised."
Duterte is planning to implement an 8 trillion-peso ($161 billion) infrastructure program over the next six years. The project in Davao, initially conceived while he was mayor, is a $780 million joint venture with local businessman Reghis Romero, chairman of Mega Harbour Port and Development Inc., which will build infrastructure for the three new islands including roads, bridges, and power and telecommunication lines.
Romero said in an interview that CCCC Dredging would put $200 million into the land reclamation project, with another $300 million to come from Chinese investors once the islands are finished. Work on the project is set to begin next June.

The project would add more than 200 hectares of land to Davao and combine a hi-tech port facility with a new central business district, Romero said. About 5,000 families of Isla Verde would need to be relocated to a nearby condominium, he added.
"It's good to know that people in the area approve of our project because the integration of an industrial port and a central business district will really entice investors and boost economic growth in Davao," Romero said in a telephone interview on Dec. 11. It will also help revive an initiative to boost trade with neighboring countries like Brunei, Indonesia and Malaysia, he said.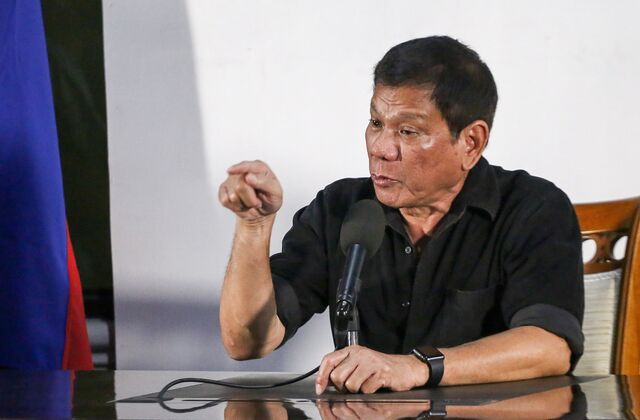 Nevertheless, CCCC Dredging brings complications for the government. One of the company's ships was seen in surveillance photos of an island reclamation project in the disputed Spratly Islands in the South China Sea, according to IHS Jane's Defence Weekly.
For an explainer on how China's maritime push confronts international law, click here
In 2009, the World Bank banned CCCC Dredging's parent company China Communications Construction Co. Ltd and all its units from road projects financed by the bank for eight years due to alleged "fraudulent practices." In a stock exchange filing, China Communications said the bank's allegations had "no factual or legal merit" and that it complied with regulations.
CCCC Dredging declined to comment on the allegations in an e-mailed statement responding to a series of questions about the Davao project. Duterte's office also didn't respond to e-mailed questions.
"CCCC engages in investment and financing, advisory and planning, design and construction as well as management and operation of infrastructure on a global scale," the company said in a statement. "We understand that many countries and their people are looking forward to infrastructure improvement, especially in transportation, and we are committed to make the world more connected."
Read more on the Philippines path to prosperity under Duterte
In Isla Verde, residents such as 51-year-old Merita Potenciano see Chinese investment as a ticket to a better life. She rises each day at about 3 a.m. in her 12-square meter home above the water to bake the sweet-bread that earns her 250 pesos a day, about half the minimum wage in Manila.
"My 15-year-old son dreams of becoming an engineer and he wants to build me a bigger house," said Potenciano, who has lived in Isla Verde since the 1980s. "I may not have to wait long if the islands rise sooner."
"We're for development," said Isla Verde Councilor Roy Liza. While some aspects of the development plan remain unclear including where the access road will be built and how many houses will have to be demolished, "the village council will ensure that nobody will get left behind."
— With assistance by David Roman, Dong Lyu, and Clarissa Batino
(
Updates with quotes from Isla Verde councillor Roy Liza in 19th paragraph.
)