BlackBerry's Bet on Software Over Handsets Begins to Pay Off
By
Adjusted profit margins approach 70%, their highest ever

Company projects 30% software revenue growth in fiscal 2017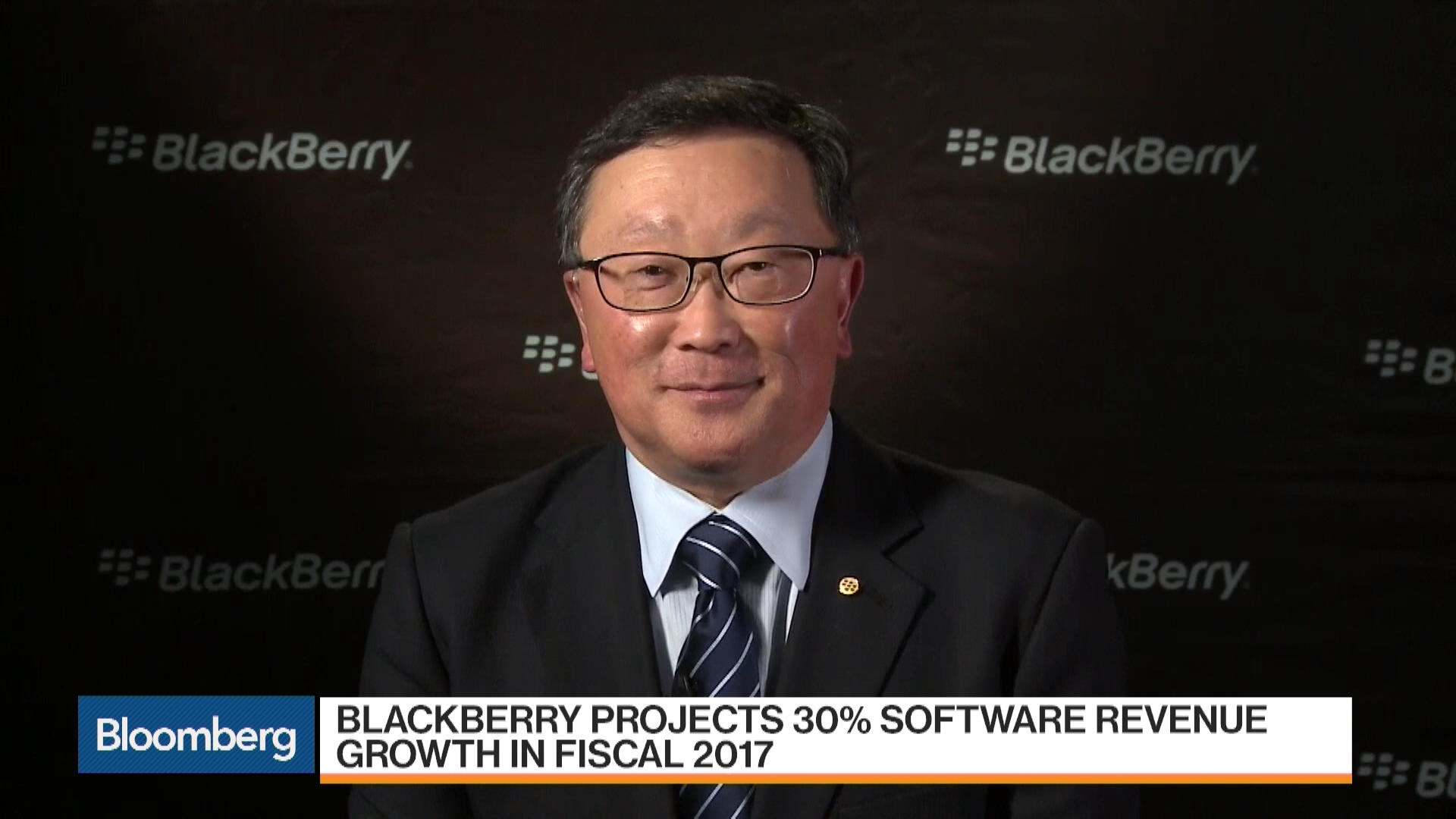 BlackBerry Ltd. boosted its fiscal 2017 earnings outlook and posted a profit in the third quarter, showing the company's bet on moving more into software and completely away from handsets is paying off.
Fiscal third-quarter earnings per share, excluding some items, were 2 cents, compared with analysts' average estimate of a loss of 1 cent. BlackBerry said it now expects to post a profit for the full year, up from a prior range of break even to a five-cent loss, according to a statement Tuesday. Shares rose as much as 4.4 percent, the biggest intraday gain in two months. They were up 1.2 percent to $7.80 at 1:26 p.m. in New York.
Total revenue declined and missed estimates, but the profit numbers and forecast show BlackBerry's transition to a higher-margin software company from ailing smartphone maker is hitting Chief Executive Officer John Chen's targets. The adjusted profit margin was almost 70 percent of revenue, its highest ever.
"I don't consider ourselves in a turnaround anymore,'' Chen told reporters at the company's headquarters in Waterloo, Ontario. "We'll make money this year. Nobody believed us in the beginning.''
BlackBerry now gets more than half of total revenue from its collection of software products, which include operating systems for car entertainment platforms, secure file sharing software and programs to help companies keep track of their mobile devices. Last week, Chen announced a deal with TCL Corp. to license its brand to the Chinese manufacturer, effectively outsourcing the rights to design, produce and distribute BlackBerry devices around the world.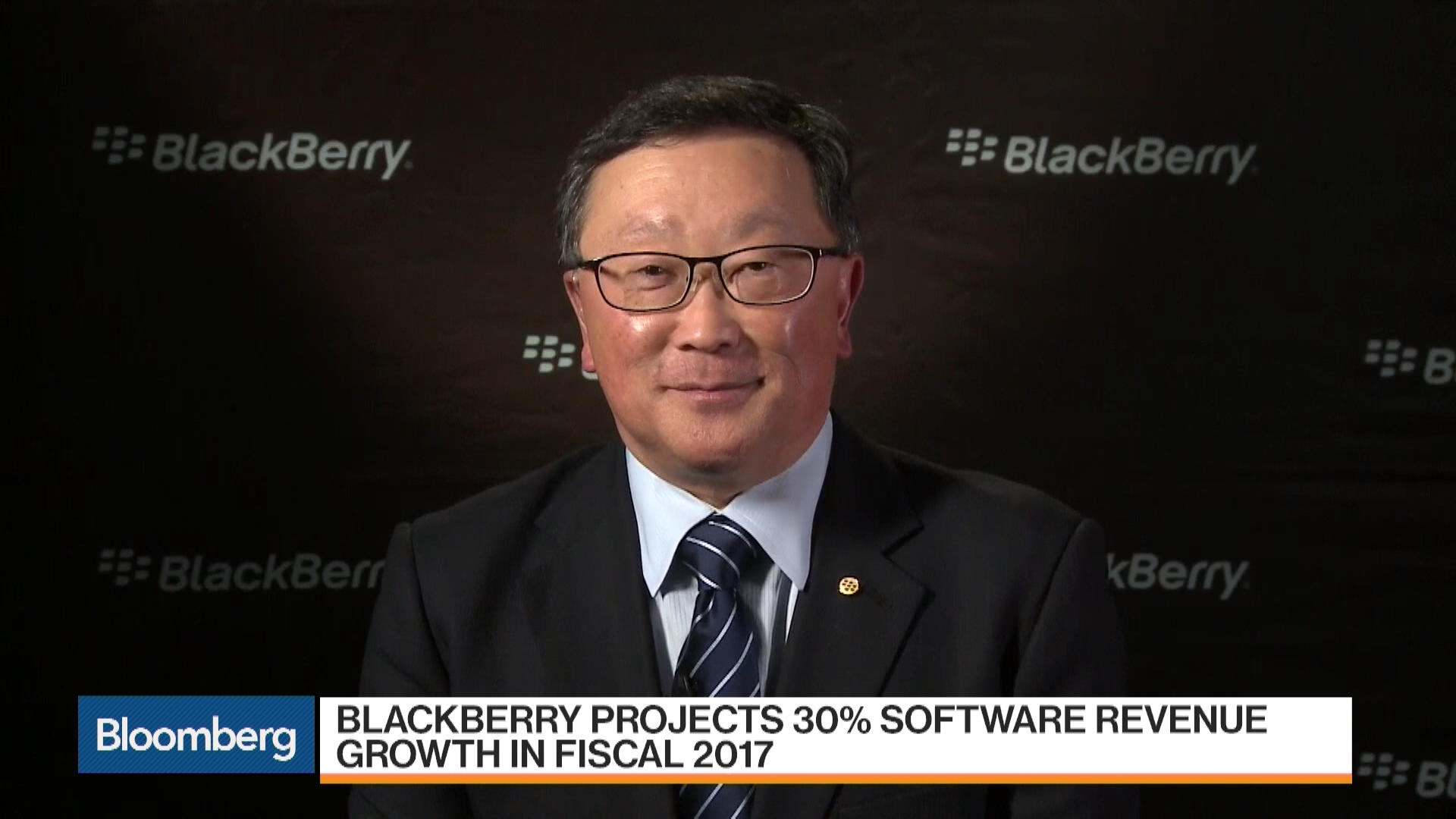 BlackBerry is close to finalizing a deal with an Indian partner to license its smartphone brand, similar to the agreement in China and one in Indonesia, Chen said, adding that he hopes to make an announcement before March.
Chen said software revenue would grow to about $640 million in the year ending March compared with $494 million the previous year.
That would achieve his goal of increasing software revenue by 30 percent this fiscal year. The following year, which ends in March 2018, will see the unit grow by around 15 percent, Chen said.
That will be enough to offset continued declines in handset-related revenue, but not enough to push overall revenue up quite yet, he said.
"I can't promise people that I'm going to get consistent growth next year. That might be a year-after thing,'' Chen said.
BlackBerry's net loss for the quarter was $117 million, or 22 cents a share.
Three years into his five-year contract as CEO, Chen has completed numerous acquisitions and gotten the company out of its money-losing phone business. Still, investors have yet to reward him with a higher stock price. The shares are down 16 percent this year.
Chen said he expects Wall Street's view of the company to change once it starts booking revenue from the phone licensing deals and software revenue keeps expanding.
"Give it a little time, this is my third turnaround,'' he said.
Before it's here, it's on the Bloomberg Terminal.
LEARN MORE