Your Evening Briefing
Here are today's top stories.
By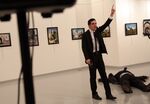 Want to receive this post in your inbox every afternoon? Sign up here.
As Trump tweets, China quietly weighs options to retaliate. Donald Trump lashed out at China over the weekend, saying it stole an underwater drone from the U.S. Navy in an "unprecedented act." While China rejected the claim, the country's overall response was rather muted. For all the noise from Trump's Twitter account and elements of the Chinese press, Beijing appears to be holding its fire at least until after he takes office next month.
Russia's ambassador to Turkey was shot at an art exhibit in the Turkish capital in an assassination apparently linked to Syria's civil war. After shooting Andrey Karlov in the back, the assailant shouted about Aleppo, where Russia's military backed an offensive by Syrian government forces. Karlov later died from injuries sustained, and the attacker was killed by security forces.
A truck rammed into a crowded Christmas market in Berlin, causing several deaths and multiple injuries. While police refused to speculate on any connection with terrorism, the incident is reminiscent of an attack in Nice in July.
IMF chief Christine Lagarde was convicted of negligence, but she won't face a fine or prison time. A Paris court said on Monday that Lagarde should have done more to overturn a 285 million-euro ($297 million) payout to a businessman in an arbitration case during her time as France's finance minister nearly a decade ago.
The U.S. government is collecting student loans it promised to forgive. The Obama administration has been actively seeking loan payments from thousands of former students at Corinthian Colleges, which filed for bankruptcy in 2015 under a cloud of fraud investigations. The students had been eligible for a debt-forgiveness program.
A tumultuous year, explained in graphics. This was the year of Brexit, Trump, economic slowdown in China and unrest around the world. Review the year's most important stories, explained in charts, maps, diagrams, illustrations, animations and data.
The Chevy Bolt is the ugly car of the (very near) future. The first affordable electric car to top 200 miles on a single charge was expected to be a vehicle of compromise, a bundle of "buts." Indeed, the most impressive things about the Bolt are the attributes it lacks: The car is not tiny, boring or slow. It is not, however, a looker.

Before it's here, it's on the Bloomberg Terminal.
LEARN MORE