WPP Joins Probed Ad Firms, Showing U.S. Look Across Industry
By , , and
Publicis, Omnicom, Interpublic also linked to investigation

Justice Department said looking at in-house production units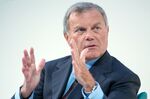 WPP Plc said it is cooperating with the U.S. Department of Justice's industrywide investigation into video-production practices, making it the fourth of the big six ad agency holding companies to disclose contact with authorities as part of the probe.
Three WPP subsidiaries have received subpoenas from the Justice Department, the world's largest advertising company said in a statement Monday. Publicis Groupe SA, Omnicom Group Inc. and Interpublic Group of Cos. have also said that they have been contacted by the government agency's antitrust division on the probe and are cooperating.
Investigators are looking into whether ad agencies colluded with independent video companies to manipulate the bidding process for producing commercials and steer business toward their in-house units, people briefed on the matter said earlier this month. The disclosures by WPP and the other holding companies show that the Justice Department probe is industrywide and not a targeted investigation of one ad agency.
"It seems unlikely the investigation will be resolved any time soon and seemingly is widening into a general industry issue," Liberum analysts led by Ian Whittaker said in a note Tuesday. There's a risk that the investigation turns into a major probe of the agency space and that companies are fined, their reputations damaged and that clients even take legal action, Liberum said.
Advertising is less regulated than some other media businesses, with trade bodies rather than government agencies doing much of the oversight on the major ad agency holding companies such as Omnicom, Publicis, Dentsu Inc., Interpublic and Havas SA. Yet production represents a small proportion of business for the biggest agencies and their holding companies.
Relatively Contained
"Our best guess is that the practices under scrutiny are relatively contained" as described and companies aren't likely to suffer meaningful harm or client loss, Brian Wieser, a senior research analyst at Pivotal Research Group, wrote in a letter to clients following WPP's disclosure.
Shares of London-based WPP, owner of ad agencies Ogilvy & Mather and JWT, fell 0.5 percent to 1,774 pence at 10:22 a.m. on Tuesday.
Investors have already priced in the potential impact of the investigation on WPP, Tamsin Garrity, an analyst at Jefferies Group LLC in London, said in a research report this month upgrading the stock to a buy. WPP derives only 2 percent to 3 percent of its revenue from production, and the advertising industry has internal compliance processes in place to protect clients from the practices alleged, according to the report.
The Justice Department's investigation was propelled by a June report commissioned by the Association of National Advertisers, said the people familiar with the matter. The study claimed that ad agencies received rebates for buying large blocks of commercial time from media companies, but kept those rebates for their own bottom lines rather than passing them along to their clients.
One section of the study, which wasn't included in the final report, described instances where ad agencies steered lucrative TV production contracts to their in-house studios by inducing independent contractors to inflate their bids, according to one of the people.