German Police Investigate Probable Terror Attack in Berlin
By and
12 people killed and 48 injured at Christmas market in capital

Suspected driver arrested near scene; passenger among the dead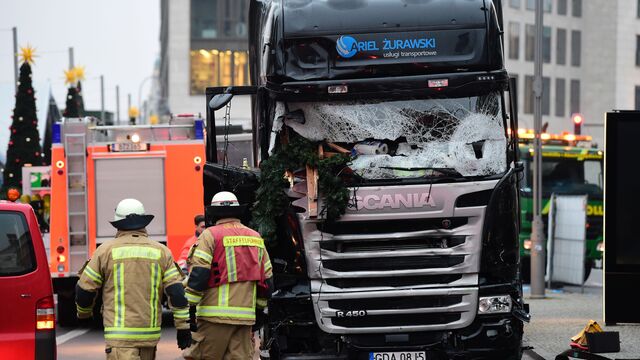 German authorities are investigating a "probable terrorist attack" on a Berlin Christmas market that killed 12 people and injured 48 others, bringing carnage to the German capital a few miles from Chancellor Angela Merkel's office.
Police were questioning a suspect arrested near the scene who they believe was the driver of a truck that rammed into crowds at the market in the heart of west Berlin Monday evening. Germany's federal prosecutor, who steps in on terror cases or other major crimes targeting state security, took control of the investigation. Merkel planned to address the incident at 11 a.m. Berlin time on Tuesday and canceled a pre-Christmas visit to her electoral district on the Baltic Sea.

German media, including Die Welt newspaper, reported that the driver was a refugee from Pakistan. Authorities declined to provide information on the suspect's identity, saying they would hold a news conference at 2:30 p.m. in Berlin. Christmas markets and other large public gatherings will continue, though security will be "adjusted," the German Interior Ministry said in a Twitter post.
The incident is reminiscent of an attack in the French city of Nice in July, when more than 80 died after a truck plowed through late-night crowds celebrating Bastille Day. The Berlin deaths threaten to further undermine Merkel's domestic political standing going into an election year. Her open-door refugee policy of last year polarized voters and has fed support for the anti-immigration Alternative for Germany party.
"We mourn for the dead and hope that the many injured can be helped," Steffen Seibert, Merkel's chief spokesman, said on Twitter.
Fleeing Scene
Berlin police said the suspect was arrested a few hundred meters from the market after fleeing the scene and the truck, which had Polish license plates. A passenger found in the truck cab had been fatally shot, ARD television reported.
Berlin, a divided frontline city with an Allied military presence during the Cold War, has largely avoided major attacks for decades. In 1986, the bombing of a discotheque frequented by U.S. service members killed three people in western Berlin.

Images from Monday night's scene showed a dark Scania-brand truck, its windscreen smashed and its long trailer parked across the street where it had come to a standstill in front of the luxury Waldorf-Astoria hotel.
German politicians were quick to express shock. Thomas Oppermann, parliamentary leader of the Social Democratic Party, which is part of Merkel's governing coalition, said he was "horrified" and called the incident a deliberate attack. Julia Kloeckner, a vice chairwoman of Merkel's Christian Democratic Union, told Bild newspaper that it was a "barbaric" act, adding that "terrorists are cowards."
Trump Response
"Our hearts and prayers are with the loved ones of the victims of today's horrifying terror attack in Berlin," U.S. President-elect Donald Trump said in a statement. "These terrorists and their regional and worldwide networks must be eradicated from the face of the earth, a mission we will carry out with all freedom-loving partners."
Germany suffered a spate of violent attacks in July that shook the public and sparked renewed criticism of Merkel's migration policies. The four unconnected assaults over the summer -- a shooting spree, ax attack, suicide bombing and machete strike -- left 13 dead and sparked anxiety over terrorism.
The Berlin deaths capped a day of violence in Europe, with the shooting dead of Russia's ambassador to Turkey and three people injured in a shooting in a mosque near the main train station in Zurich.
Blaise Misztal, director of the Bipartisan Policy Center's national security program in Washington, said the attacks in Ankara, Berlin and Zurich appeared to be "more coincidental than really connected."
Eyewitness Account
"There's going to be a temptation" to connect them, Misztal said in a phone interview. "It's going to feed into a temptation to weave a single narrative that this is Islamic terrorism coming out of Syria." Yet this a "mistaken assessment," as "it's not a monolithic threat."
Wolfgang, a 62-year-old Berliner who didn't want to give his last name, said he came out of the Europa shopping center next to the market on Monday night shortly after the truck drove into the crowd on Breitscheidplatz square. "There was no panic -- which really surprised me," he said.
Breitscheidplatz is lies in the heart of western Berlin on the Kurfuerstendamm shopping boulevard and is among the busiest parts of the city during the Christmas season. The square is the site of the Kaiser-Wilhelm church, whose ruined facade has been preserved to commemorate World War II and is a popular tourist destination.
Christmas markets are a common feature of German cities during the festive season, with vendors in wooden stalls selling everything from sausages to candles to pottery.
"This is a shock for us all," Berlin Mayor Michael Mueller told journalists. "In these times, it's truly difficult to experience something like our friends in other cities have experienced in recent months or years."
— With assistance by Rainer Buergin, Birgit Jennen, Nafeesa Syeed, and Karin Matussek
Before it's here, it's on the Bloomberg Terminal.
LEARN MORE