Itau Restructures Investment Bank, Treasury, U.S. Teams
By
Christian Egan takes over treasury and global markets

Carlos Constantini becomes U.S. chief executive officer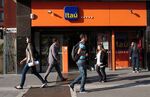 Itau Unibanco Holding SA, the Brazilian bank that's replacing its chief executive officer in April, named Christian Egan to lead the global markets and treasury business and Carlos Constantini as CEO of the U.S. unit.
Constantini will be based in Miami, where Itau runs its most important business in the U.S., its private-banking operation for Latin American clients, Eduardo Vassimon, Itau's wholesale general officer, said in a telephone interview. Almir Vignoto, head of New York operations, will retire in coming months and act as a consultant and member of the U.S. board, according to Vassimon.
"Since many executives are changing positions we decided to take the opportunity to make some readjustments," Vassimon said.
Itau, the biggest bank in Latin America by market value, is the largest wealth manager in Brazil. It's also No. 1 in investment-banking fees this year through Dec. 6, according to Dealogic, the London-based research firm. The company has been expanding through acquisitions, including an October agreement to buy Citigroup Inc.'s retail business in Brazil for 710 million reais ($209 million), a takeover that boosted Itau's private-banking business.
Egan will run global markets and banking, which comprises trading, corporate sales, global equities and fixed-income distribution, and banking and asset-liability management, he said in an interview at the bank's headquarters in Sao Paulo.
Liquidity Provider
"The goal with the new global markets structure is to consolidate our dominant position as a key liquidity provider for our institutional and corporate clients in Latin America, by having sales and trading working together," he said.
Egan is also responsible for the clients' trading desk, which includes creating derivatives and hedging positions. He's taking over the treasury business from Caio David, who's moving on to replace Vassimon as chief financial officer and chief risk officer. Egan now reports to Vassimon, who took over for Candido Bracher as he prepares to become the bank's CEO in April. The current CEO, Roberto Setubal, 62, is stepping down as he nears the bank's mandatory retirement age.
Constantini, the former global head of equity and fixed-income distribution and research, will also take charge of Northern Hemisphere wealth-management, which includes the Zurich business. He will report to Flavio Souza, head of the wealth-management and services division, which includes asset management, private banking and securities services.
Shares of the bank, which have gained 32 percent this year, dropped 1.1 percent to 31.52 reais at 2:34 p.m. in Sao Paulo.
European Coordination
Constantini will work in coordination with Renato Lulia, CEO for Europe. His previous responsibilities will be divided in three, with Rodrigo Magalhaes as global head of equities distribution, based in Sao Paulo, and Percy Moreira, based in New York, running fixed-income distribution. They will both report to Egan. Joaquim Ley, based in Mexico, will be global head of equity and fixed-income research and report to Mario Mesquita, Itau's chief macro economist.
In Mexico, Itau is keeping only a research team with nine people after selling its brokerage to a buyer it didn't disclose. The bank received 400 million pesos ($20 million) for the broker-dealer license, office space, hardware, software and the 23-person team, Alberto Mulas, CEO for the nation, said in an interview in June.
Mulas is leaving the bank at the end of this month to pursue personal projects, Vassimon said.
Before it's here, it's on the Bloomberg Terminal.
LEARN MORE