business
EU Renews Russian Sanctions But This Time Could Be the Last
By
The bloc prolonged economic sanctions for another six months

Cracks show in united EU front as Trump administration looms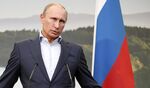 The European Union decision to roll over economic sanctions against Russia for an additional six months may be the last time the bloc is able to impose such penalties as the West's united front against President Vladimir Putin wavers.
While the EU announced Monday it was prolonging the measures until July 31 as a result of continued violence in eastern Ukraine, the need for unanimity among the 28 governments makes holding the line beyond that date far from certain. Footholds made by pro-Moscow politicians throughout Europe as well as questions about the efficacy of sanctions will test that unity like never before.
France's Republican candidate for president, Francois Fillon, has said he wants to ease tensions and revive relations with Moscow, a shift that could end the measures that were first introduced in July 2014. Add President-elect Donald Trump's overtures to Putin, and the common U.S.-EU position looks precarious. President Barack Obama's support had helped solidify the European position.
"As time passes and the situation in eastern Ukraine doesn't change in a significant way, it becomes more difficult to prolong the sanctions on Russia," said Paul Ivan, senior policy analyst at the European Policy Centre in Brussels. "It's difficult to say what the situation in six months' time will be because there are so many things we don't know about the next U.S. administration."
EU Fatigue Over Russia Sanctions Shows as Putin Reset Looms
Russian shares fell after the announcement with the nation's Micex index dropping 0.7 percent on Monday. The benchmark is down 1.5 percent from its 2016 high reached earlier this month.
Cracks are already starting to show. The U.K., Germany, the Nordic and Baltic countries are the hard liners while and others in eastern Europe are more skeptical. With some convinced that a renewal of sanctions in July would be more difficult, certain leaders argued for a year-long extension, according to officials with knowledge of the talks.
The decision to renew the measures related to Ukraine came as atrocities mounted in Aleppo with Russian-backed airstrikes helping President Bashar Al-Assad's forces retake the Syrian city in the biggest victory against rebels in almost six years of civil war.
Leaders at the summit didn't want to impose new measures tied to the Syria bombings. As Danish Prime Minister Lars Lokke Rasmussen put it: "I don't know if more sanctions will be the step that makes a difference right now."
(
Updates with Russian shares in the fifth paragraph.
)
Before it's here, it's on the Bloomberg Terminal.
LEARN MORE