China Talks the Talk on Property Curbs, but Can it Walk the Walk?
Bloomberg News
Overheated property market continued cooling trend in November

2017 economic growth seen slowing as real estate weighs on GDP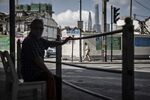 China is talking the talk about reining in the speculation that fueled spiraling property prices. The test will be whether it can walk the walk should growth start to falter.
The government must do more to deflate the real-estate bubble by strictly controlling speculation, Yang Weimin, deputy director of an elite economic group led by President Xi Jinping, said Saturday in Beijing after the annual gathering to plan economic goals ended. Authorities have made similar vows in recent years that pushed prices down temporarily before they surged anew to fresh highs as policy eased again to boost slowing economic growth. 
With the leadership wed to Xi's goal of annual growth averaging 6.5 percent through 2020, the challenge will be to achieve that amid another slowdown in the crucial property engine. There are signs of strengthening global demand ahead of a party congress late next year, but looming risks include a confrontation with U.S. President-elect Donald Trump over trade and rising U.S. interest rates that are pressuring the yuan and fueling capital outflows.
"Talking the talk has always been the strong suit of Chinese government officials," said Pauline Loong, managing director at research firm Asia-Analytica in Hong Kong. "Yang could have been talking about policy for 2012, 2013, 2014."

Policy makers issued a statement after their three-day Central Economic Work Conference last week taking an aggressive stance on controlling financial risks, while emphasizing support for growth and a strong commitment to maintaining social and economic stability ahead of the 19th party congress late next year.
"Houses are built to be inhabited, not for speculation," the post-meeting statement said.
The property market continued to cool in November as authorities rolled out renewed home-buying curbs. Local authorities from Shanghai to Tianjin stepped up property curbs last month, following restrictions rolled out across almost two dozen cities since September. That has reined in runaway prices for now, with the value of homes sold last month gaining at the slowest pace this year, official data showed last week.
For more on China's latest home prices, click here
Stimulus and prospects for stronger global demand have boosted optimism over the near-term growth outlook and enabled the People's Bank of China to selectively tighten overall liquidity after keeping the benchmark interest rate at a record low for more than a year.
Still, the broadest measure of new lending jumped the most since March last month. The central bank injected a combined 639 billion yuan ($92 billion) in liquidity into the financial system on Thursday and Friday after the Federal Reserve raised interest rates for the first time this year and forecast a steeper path for borrowing costs in 2017.
With expansion likely to slow to 6.4 percent from 6.7 percent this year, according to a Bloomberg survey of economists, the test for policy makers will be how they respond to that and whether, as they have in the past, they reopen the credit spigot wider to shore up growth.  
'Too Late'
"Given the growth target and the enormous amount of debt that needs to be rolled over, I don't see how the PBOC can tighten in any meaningful way," said Victor Shih, a professor at the University of California at San Diego who studies China's politics and finance. "Just look at what happened late last week. The PBOC pumped over half a trillion yuan into the interbank bond market in reaction to liquidity tightening."
More emphasis on reining in property prices carries risks and doesn't fit well with plans for more active fiscal policies, according to Zhu Ning, author of "China's Guaranteed Bubble" and deputy director of the National Institute of Financial Research at Tsinghua University in Beijing.
"Policy makers are trying now to contain the property market by talking," Zhu said. "That unfortunately is too late and does little to dispel the speculative sentiment and expectation that's built up over the past one-and-half decades. The situation has already gone beyond a soft landing."
There will always be prophecies about a hard landing in China to be triggered by a debt crisis, property bubble or financial turmoil, according to a year-end commentary Monday by the official Xinhua News Agency. It took aim at billionaire investor George Soros, without naming him, for saying in January that a hard landing is practically unavoidable this year.
"It is an easy game, and these China bears have been selling imaginary fears for their own fame and fortune for a long time," the commentary said.
China's highly leveraged developers are feeling the heat. Regulators in October choked off a key source of funding with the Shanghai Stock Exchange raising the threshold for property firms to sell bonds on their platform.
For a look at the challenges faced by China's developers, click here
Medicine being administered to the bond market is also raising risks of dangerous side-effects as policy makers try to discourage risky investments made on borrowed money. Authorities have increased short-term money-market rates and tightened rules on using debt as collateral to buy even more securities. That's sparked a jump in borrowing costs, prompted firms to cancel bond offerings and fueled speculation defaults will spread next year amid a near-record 4.5 trillion yuan of maturities.
To read more on China's efforts to decrease risky leverage, click here
Christopher Balding, an associate professor at the HSBC School of Business at Peking University in Shenzhen, cites the risk of increased credit growth for mortgages and real estate. Longer-term household loans increased by 569.2 billion yuan last month, accounting for more than two thirds of total new yuan loans, PBOC data showed last week. That was just shy of the 571.3 billion yuan record in September.
The growth pace is likely to moderate, though "that isn't saying a lot," Balding said. "They absolutely cannot have any significant drop in prices without risking real social instability."