China Rejects Trump's Comment That It Stole U.S. Naval Drone
Bloomberg News
Military negotiating with U.S. over return of unmanned vehicle

Philippines calls seizure off country's coast 'very troubling'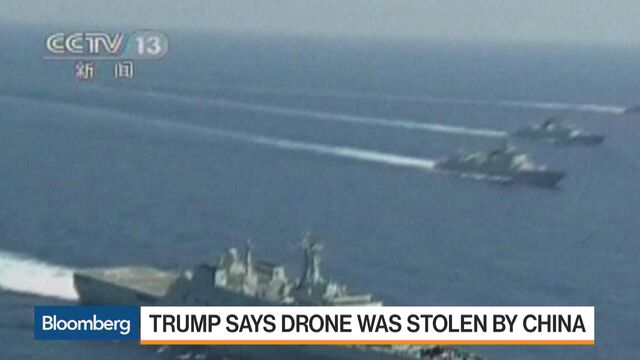 China pushed back against U.S. President-elect Donald Trump's claim that its military stole an American naval drone last week, as the Philippines called the seizure off its coast "very troubling."
The unmanned underwater vehicle was removed in a "responsible and professional manner" to protect shipping, Chinese Ministry of Foreign Affairs spokeswoman Hua Chunying told reporters in Beijing on Monday. Trump said on Twitter on Saturday that China had "stolen" the drone in an "unprecedented act," later adding that China should keep it.
"We don't like the word 'steal' -- the word is absolutely inaccurate," Hua said at a regular daily briefing, adding that China was still negotiating with the U.S. military about the drone's return. "This is just like you found a thing on the street, and you have to take a look and investigate it to see if the thing belongs to one who wants it back."
The Pentagon said a Chinese naval vessel unlawfully seized the drone Thursday while the USNS Bowditch was attempting to collect it about 50 nautical miles northwest of the Philippines's Subic Bay. The incident showed how quickly tensions between the nations could escalate as China challenges U.S. naval supremacy in Asia and Trump signals a more confrontational approach to the world's second-biggest economy.
China claims more than 80 percent of the South China Sea, where it has constructed artificial reefs and built up its military presence. The nearest disputed area of the sea from the latest incident is Scarborough Shoal, which China has controlled since a 2012 standoff with the Philippines, a U.S. security ally that also claims the feature.
'Very Troubling'
In a statement Monday, Philippine Defense Secretary Delfin Lorenzana said the incident was a matter for China and the U.S. to resolve among themselves. Nonetheless, he said, it was "very troubling" because it occurred within the country's 200-nautical-mile exclusive economic zone.
"Not only does it increase the likelihood of miscalculations that could lead to open confrontation very near the Philippine mainland, but the commission of activities other than innocent passage which impinge upon the right of the Philippines," Lorenzana said.
China has sought to maintain "strategic composure" in response to Trump's criticisms of the country's policies on everything from trade policy to Taiwan. On Monday, Hua suggested the China was holding fire in responding to Trump's tweets until he takes office.
"Our focus is the U.S. administration's words, behavior and policies," Hua said. "Regarding the postings on Twitter made by U.S. President-elect Mr. Trump, I've noticed that there are lots of comments from international community already, and me, as a spokesperson for China's foreign ministry, I don't have extra comments to make."
At the same time, China is preparing for a deterioration in relations next year. In an editorial last week after Trump questioned the One-China policy, the Global Times warned: "We shall harbor no illusions, and get ready to wrist-fight with Trump."
— With assistance by Keith Zhai, Cecilia Yap, and Ting Shi
Before it's here, it's on the Bloomberg Terminal.
LEARN MORE