Carlos Slim's Profit Margins Are Right Where Mexico Wants Them
By
America Movil hurt in crackdown in Mexican telecom market

Company used to enjoy monopolistic margins, Aspe says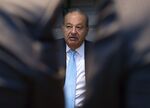 After eight straight quarters of declines, America Movil SAB's profit margin in Mexico has sunk to a level that the government finds acceptable.
Margins in the industry are now close to what phone companies get in other parts of the world, and regulators should ensure they stay there, Deputy Telecommunications Minister Monica Aspe said in an interview. America Movil, controlled by Carlos Slim, has argued that competition is thriving and that market controls should be lifted.
"We used to have extraordinary, monopolistic margins," said Aspe, speaking in her Mexico City office. "What we have today is more in line with the global industry, but they are still healthy.
"Indeed, it's very important to maintain them," she said.
While the comments signal that the government won't push to compress margins further, they offer little relief for investors whose shares have been battered by regulatory pressure on Slim's company. America Movil's margin on Mexican earnings before interest, tax, depreciation and amortization is down to 33 percent this year, compared with 47 percent in 2013.

America Movil didn't immediately respond to a request for comment.
AT&T's Entry
The telecommunications overhaul signed into law three years ago forced America Movil to share parts of its network infrastructure and barred the company from charging rivals to connect calls. Such changes enticed American phone giant AT&T Inc. to enter the market and resulted in mobile-phone service costs dropping as much as 22 percent in one year, according to the telecommunications regulator.
The regulations have made just a dent in America Movil's wireless market share, which has dropped to 66 percent from 70 percent six years ago. But the erosion of profits has crushed its stock price. The shares are down 20 percent since the end of 2014, when AT&T entered Mexico.
As deputy telecommunications minister, Aspe works on government policy, while a separate agency, the Federal Telecommunications Institute, implements regulations for the industry.
Telefonica SA and AT&T still complain of an uneven market and have called for more rules designed to restrain America Movil and benefit its rivals.
America Movil's debt ratings were put under review for possible downgrade by Moody's last week. The ratings agency cited competitive pressures and economic challenges across Latin America, especially in Mexico, where the company has limited prospects to turn itself around in the next year to 18 months.
Shared Network
While many of the regulations from the telecommunications law of 2013 are already in effect, some are still under way. One of Aspe's largest projects is a state-run, wholesale wireless network, which companies could use to sell mobile-phone service under their own brands, creating more competition. Scheduled to be operational in 2018, the network is meant to reduce costs for operators and increase coverage across the country, including rural areas where operators have little economic incentive to expand. The contract was awarded to a Morgan Stanley-backed group in October.
"The shared network is fundamental," Aspe said. "If competitors have access to infrastructure with more coverage and quality than any other existent network, they have better chances to compete."
Before it's here, it's on the Bloomberg Terminal.
LEARN MORE