Brexit Will Mean Cuts for the Rest of the EU, Denmark Says
By
Danish Finance Minister sees farm, industry subsidies falling

Germany unlikely to fill budget gap U.K. leaves, minister says
Without Britain's contributions, the remaining European Union members will need to get by on a smaller budget, according to Denmark.
No one, including Germany, wants to fill the 7.6 billion-euro ($7.9 billion) hole that will be left once Britain -- a net contributor to the EU -- leaves the bloc, Danish Finance Minister Kristian Jensen said in an interview in Copenhagen on Friday.
"The EU cannot continue spending the same amount of money when one of the largest countries, one of the largest contributors, leaves," said Jensen, who had been foreign minister before a new Danish government was formed last month.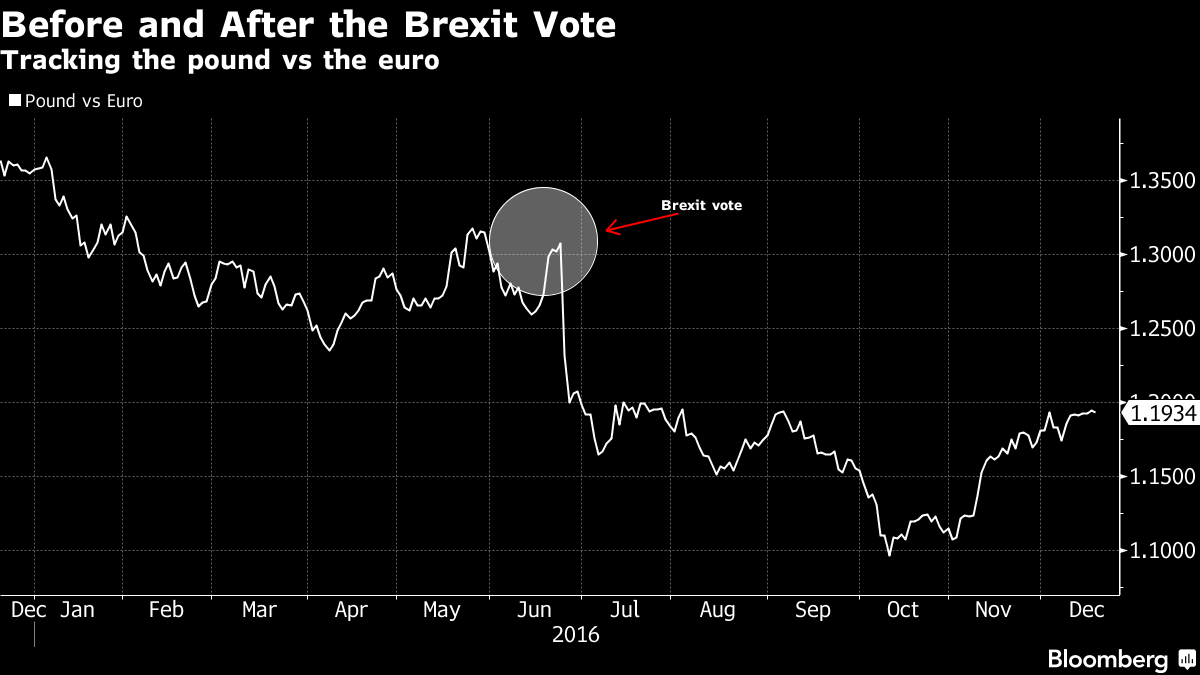 The comments offer a preview of the bitter talks ahead on a key challenge facing the EU once Britain exits. The bloc has operated with an annual budget of about 140 billion euros, an amount that is agreed every seven years after national governments fight over everything from agriculture subsidies to research support. The current budget period, which ends in 2020, marks the first time the bloc has reduced spending, following insistence from former British Prime Minister David Cameron.
Commission Snubbed
Denmark, which is also a net-contributor to the EU, last month snubbed a European Commission proposal to increase spending. The Danes argued it would be inappropriate to commit to budget changes before there's more clarity on what Brexit means for the bloc.
Jensen says the EU needs to accept that there won't be room for the kinds of programs that have existed to date. More specifically, the "enormous sums" in agricultural subsidies that Denmark, and others, received from the EU over the years will probably shrink, according to Jensen. That means "we need to look very critically at the expenditure, even the more difficult parts," he said.
Subsidies are a particularly sensitive issue for the EU's eastern members, which have relied on the bloc's regional development, agricultural and industry development funds to build up their economies. Jensen says Britain's departure means there'll now be less money for that kind of investment in the future.
Meanwhile, Denmark and other northern European contributors like Germany, the Netherlands, Sweden and Finland are worried they won't be able to muster enough votes in the bloc to prevent an increase in EU spending after Britain leaves.
But the gap between what Britain wants and what the EU is willing to give remains considerable and, ultimately, implies that the U.K. will need to continue making contributions of some sort to the bloc if it's to get any concessions, according to Jensen.
"There's no such thing as a free lunch. Not even for a country like Britain, which has been a close ally of Denmark for many, many years," he said. "So if the EU is to stay open to Britain, then Britain has to follow the same rules as other countries like Norway."
Meanwhile, the stakes for Britain are growing higher. Scotland is now planning to hold a referendum on separation from the U.K. unless it can stay in the EU's single market.
Read more: Scotland ready to exit U.K. to keep single market access
In a commentary published in the Financial Times on Sunday, Scottish First Minister Nicola Sturgeon said that "independence must remain an option for safeguarding our European status, if it becomes clear that our interests cannot be protected in any other way."
Before it's here, it's on the Bloomberg Terminal.
LEARN MORE