WEF May Tackle Davos Hotel Crunch by Putting Staff in Containers
By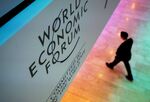 The World Economic Forum is exploring the option of housing staff in temporary containers during its annual meeting in Davos to reduce the perennial lodging crunch.
"We are facing more and more people every year," WEF spokesman Yann Zopf said by phone. "We'll manage for 2017, but we need to think longer term."
Some 11,000 people came to Davos during the 2015 annual meeting and while the number of participants at the actual event is capped at 2,500, the surrounding events draw an increasing number of visitors. The village itself has a population of about 13,000 and beds in hotels and apartments are in high demand each January.
Should the organizers decide on temporary containers from 2018 -- picking up a plan the canton of Graubuenden considered for an Olympic bid -- they may use them for WEF events too, according to Zopf.
The plan was first reported in Bilanz magazine, which cited WEF head of operations Alois Zwinggi as saying the Parsenn parking lot would provide ample space for such a construction and that he would spend a trial night in one of the prototype containers.
Before it's here, it's on the Bloomberg Terminal.
LEARN MORE