Sanofi Said to Be in Advanced Talks to Acquire Actelion
By , , and
Companies said to discuss price of about $275 a share

Deal said possible soon as next week, talks could fall apart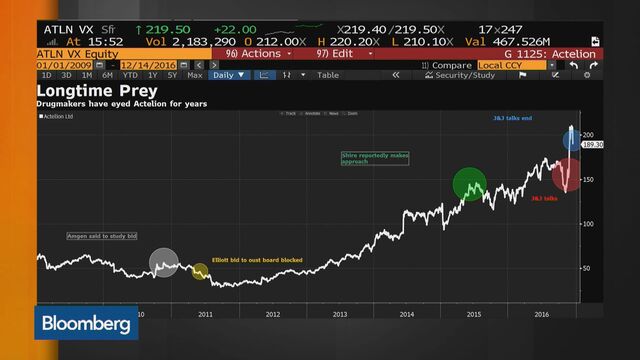 Sanofi is in advanced talks to acquire Actelion Ltd., according to people with knowledge of the matter, in a deal for the Swiss drugmaker that could be announced as soon as next week.
The companies are discussing a price of about $275 per Actelion share, the people said, asking not to be identified because the negotiations are private. That price may include a contingent value right, or CVR, for Actelion shareholders, the people said, which would pay out depending on the future performance of certain pipeline drugs.
While Sanofi executives are keen to devise a structure that both parties can agree on, no deal has been reached and the talks may still fall apart, they said.
At that price, Sanofi would be valuing Actelion at about $29.6 billion (30.5 billion Swiss francs). Actelion shares jumped 9.3 percent to 215.90 francs at 11:30 a.m. in Zurich. Sanofi lost 2.4 percent to 74.17 euros.
Negotiations are focused on the structure of the CVR, the people said, and which drugs it would include. Ponesimod, Actelion's experimental treatment for relapsing multiple sclerosis, is one of the drugs that may be under discussion, the people said.
Representatives of Sanofi and Actelion declined to comment.
Rare Diseases
Actelion Chief Executive Officer Jean-Paul Clozel may be a key to whether the talks succeed. The CEO, his wife Martine Clozel and a team of scientists founded the company after splitting from Roche Holding AG. The discovery of the blockbuster Tracleer propelled Actelion over a decade ago to becoming a leader in the treatment of pulmonary arterial hypertension, which affects arteries that connect the heart to the lungs. The Clozels have over the years succeeded in fending off potential bidders and keeping the company independent.
Paris-based Sanofi swooped in on Actelion after Johnson & Johnson abandoned talks to buy the company, people familiar with the matter said this week. Sanofi had been considering a counterbid for some time, and had informally made its interest known.
Buying Actelion would bolster Sanofi's rare-disease portfolio as the French drugmaker seeks to offset declines for its bestselling product, the insulin Lantus. The company has signaled interest in deals as big as its $20.1 billion purchase of Genzyme Corp. in 2011 and said it wants to use acquisitions to strengthen its business in key areas.
Johnson & Johnson said Tuesday it ended discussions with Actelion for a potential deal after failing to reach an agreement that would create "adequate value" for its shareholders.
The U.S.-based company on Nov. 29 significantly increased its offer to about $260 a share, or more than $28 billion, after Actelion rejected an earlier bid for being too low, according to people familiar with the matter.
While negotiations between Sanofi and Actelion are constructive, any deal could hinge on Clozel's backing and could still collapse. Last-minute demands to J&J for a higher price by the co-founder led to the breakdown of a near-agreement with the U.S. company, two people familiar with the matter said.
Before it's here, it's on the Bloomberg Terminal.
LEARN MORE