Obama Says Trump Must Consider Consequences of Any Taiwan Change
By and
The president-elect has questioned 'One China' policy

President says Taiwan 'as important as anything' to Chinese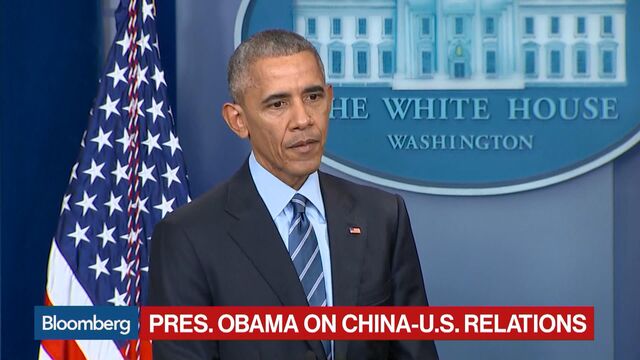 President Barack Obama cautioned his successor, Donald Trump, against abandoning U.S. policy on Taiwan, warning that the relationship with China is important to the U.S. economically and strategically and the reaction in Beijing could be "very significant."
"For China, the issue of Taiwan is as important as anything on their docket. The idea of One-China is at the heart of their conception as a nation," Obama said at his last year-end news conference at the White House. "If you're going to upend this understanding, you have to have thought through what the consequences are."
Trump accepted a congratulatory 10-minute phone call from Taiwan president Tsai Ing-wen earlier this month, abandoning decades of political protocol that limited direct contact between the U.S. president and the island's leader. The Chinese regard Taiwan as a renegade province, and under the "One-China" policy, the U.S. acknowledges Taiwan and the mainland are part of the same China, and Beijing is the seat of government.
"The Taiwanese have agreed to that; as long as they're able to continue to function with some degree of autonomy, they won't charge forward and declare independence," Obama said. "That status quo, although not completely satisfactory to all the parties involved, has kept the peace and allowed the Taiwanese to be a pretty successful economy and a people who have a high degree of self-determination."
After the call, Trump suggested in an interview on Fox News that the One-China policy could be used as a bargaining chip in trade talks with the Chinese.
"I don't know why we have to be bound by a One-China policy unless we make a deal with China have to do with other things, including trade," Trump said.
Obama declined to directly criticize Trump for taking the call from the Taiwanese president.
"I think all of our foreign policy should be subject to fresh eyes," he said. "It should be not just the prerogative but the obligation of a new president to examine everything and determine what makes sense and what doesn't."
But Obama said he had advised Trump to move cautiously in foreign policy until his entire team is in place in the government and has been "fully briefed" on U.S. international relationships.
— With assistance by Alex Wayne
Before it's here, it's on the Bloomberg Terminal.
LEARN MORE